I have scratches on my favorite leather bag, is there any way I can fix it myself?
When you use leather products, they are worn, peeled, scratched, cracked, or discolored. When this happens, it looks a little too shabby to take them with you, so you end up leaving them in a closet or drawer.
But in our house, we use a leather repair cream to repair all such damages quickly. Since I started using the repair cream, almost no leather goods have to be thrown away anymore.
The word "repair" may sound like too much work, but actually, repairing leather is much easier than you think, you just have to apply the cream.

Mickey
It's really easy, so before you give up and throw them away, try repairing them with repair cream first!
In this article, I will explain in simple terms how to easily repair leather products by yourself.
Before and after repair of leather products with a repair cream
First, please look at the images before and after repair to see how well the leather repair cream can repair your leather goods.
Repairing a black leather shoulder bag with the rubbing on the bottom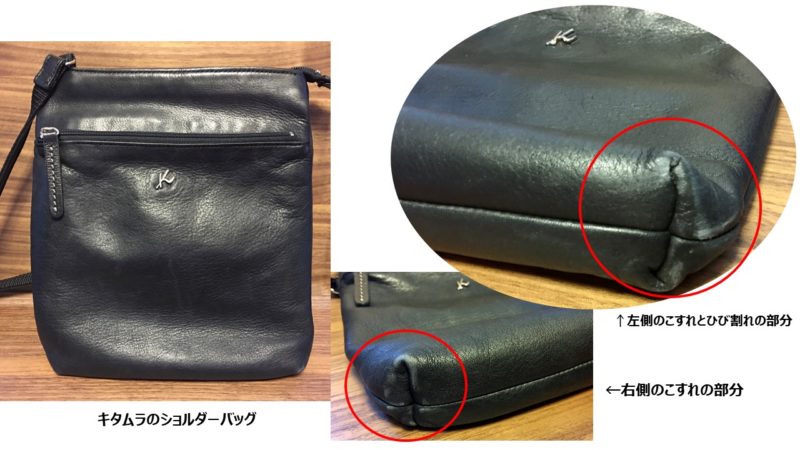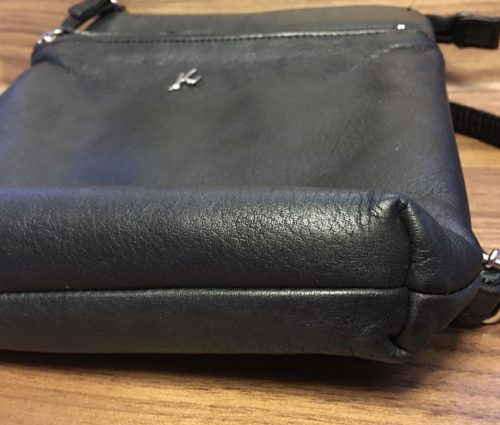 Repairing a dark brown COACH leather wallet with a discoloring inside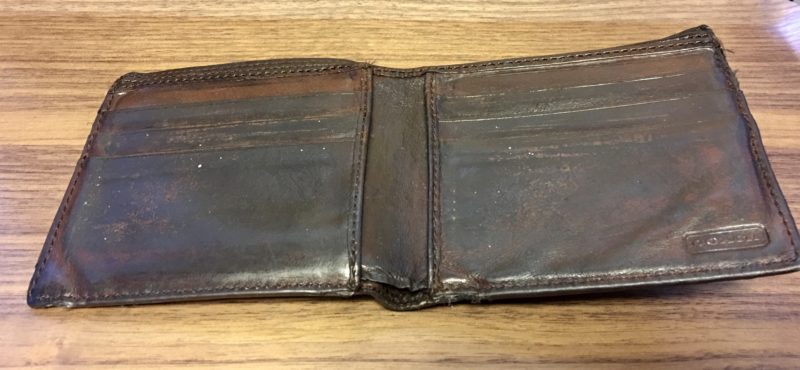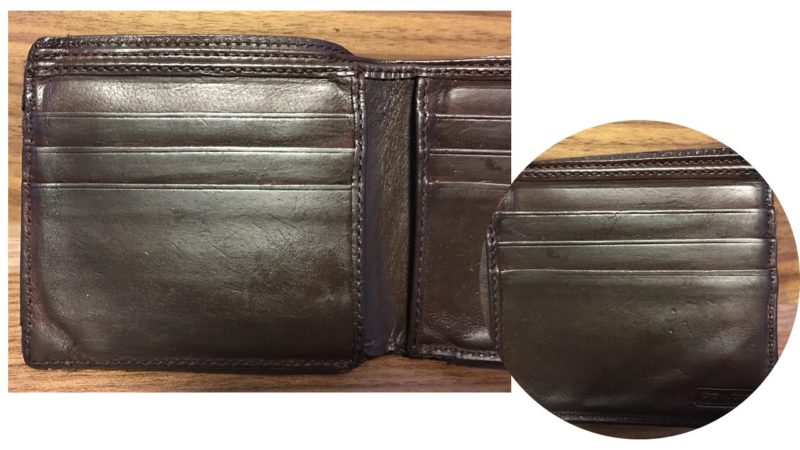 Repairing the entire surface of a light brown leather coin purse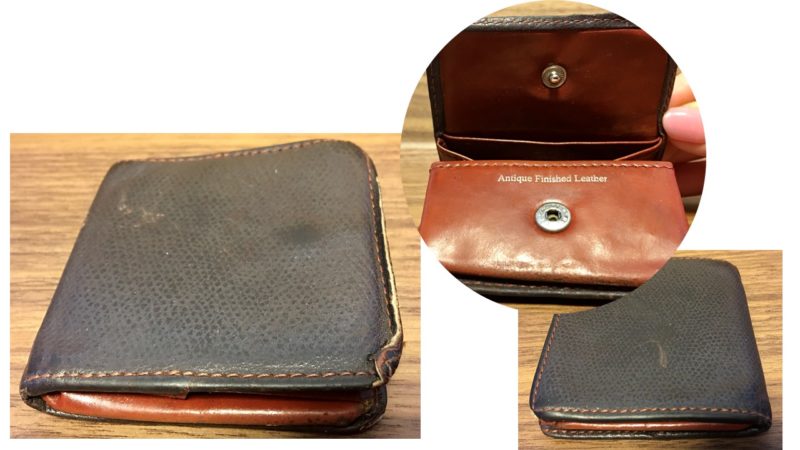 Repairing scratches on the surface of a black leather business card case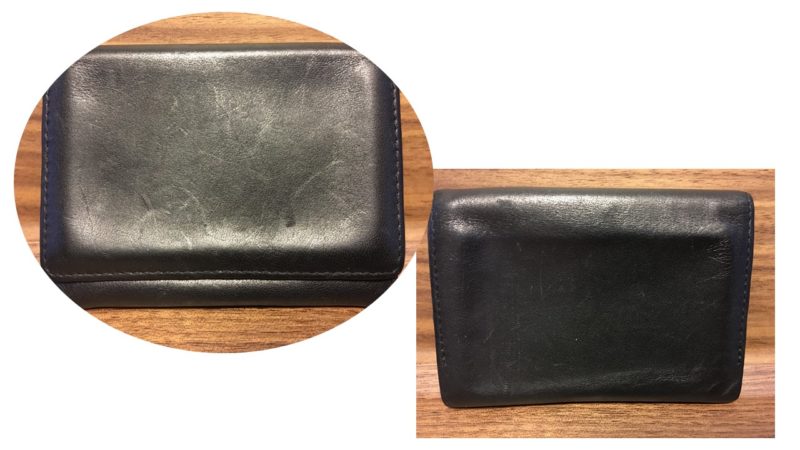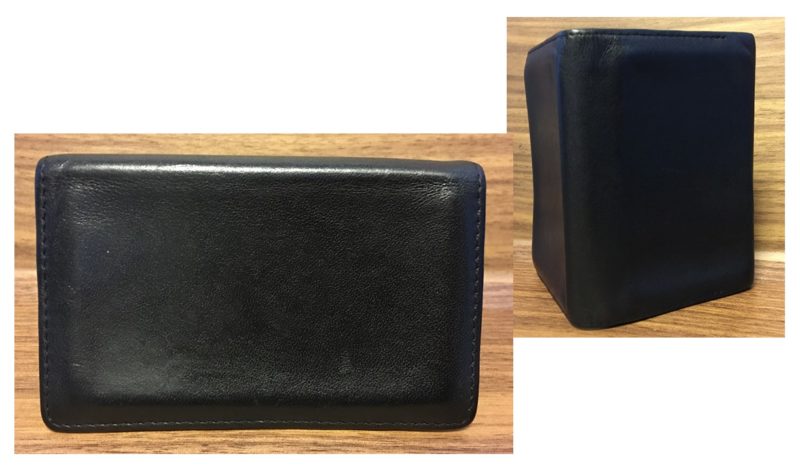 What do you think?
You can quickly repair leather products in such a state unless you just have to throw them away unless repaired.
For more details on how to fix leather products, please refer to the rest of this article.
The easiest method to successfully repair leather products
There are two ways to repair leather; one is to use a repair cream, and the other is to use spray paints for leather.

Mickey
Since it was my first time, so I tried 'em both!
Big mistake to use "Dye Q spray", spray paint for leather
Probably, one of the most famous spray paints in Japan is "Dye Q Spray," in which the actual name is "Some Q Spray" and "Some" means "dye."
This is a type of paint that adheres to the material and gives it color when sprayed. Well, it seems obvious now, but I didn't realize it before using it, but when I actually tried it, I found out that Some Q is a spray, so it is not suitable for repairing small parts of the leather.
I used a 1,300 yen mini Dye Q Spray to tried and turned my black loafer shoes brown, and it was a huge disaster.
It didn't turn brown with one full spraying, so I had to respray it a few times after it dried. But even after I used up the whole bottle, the black color still showed underneath the brown, and I had to throw it away.

Mickey
Before spraying, I tried to remove as much shoe cream from the surface of the loafer as possible, but it still repelled.
In addition, the spray is rather costly, hard to cure, needs to be used outdoors, smells pretty bad, and needs to be dried for a long time, which is super annoying.
Accordingly, I would never recommend using Dye Q Spray to repair or change the color of leather products.
Columbus is cheaper than Saphir but requires a little more work
The other method to fix leather products is a repair cream, and the most popular repair creams are "Saphir" and "Columbus." Both are famous manufacturers of leather goods care products.
Depending on the condition, Columbus uses a set of "Ad Base" to fill deep scratches and "Ad Color" for shallow scratches. However, I have seen some reviews saying that it is not really recommended because you have to mix and adjust them. Also, the Ad Base that fills in scratches is white, so if you fill in scratches with the Ad Base and then spread the Ad Color, the white color may show.
So I thought if you would mix the white with black color, the black may turn gray so that you might not get the color you intended to use. It's a bit tricky because you also have to think about how much amount you would use.
So finally, I decided to buy the "Saphir Renovating Color Repair Cream" from Amazon, which had a good review.

Mickey
It turned out to be a great success!
What is Saphir Renovating Color Repair Cream?
Saphir is a leading French leather goods care company in Europe.
The company was founded in 1920. The website is also very stylish, isn't it?
Based on the concept of "cherishing and using good things for a long time," Saphir provides leather care products that enable people to use high-quality leather products for a long time.
What's more, Saphir is also used in Hermes' leather products. The ingredients of the Renovating Color Repair Cream are acrylic resin and pigment, and it is 1,200 JPY per bottle, containing 25 ml.
You may feel this price is high, but you only need a small amount, so it lasts long, and one bottle can be used to repair various leather products.

Mickey
I think its cost performance is pretty good!
Basically, there is no expiration date, so if you buy it once, you can use it forever.
Leather bags, wallets, and belts are quite expensive to begin with, so if you can repair and use them further, there's nothing better than that.
With this repair cream, you can keep using your leather goods instead of throwing them away, which is eco-friendly, too!
Features of Saphir Renovating Color Repair Cream
Here are features of Saphir Renovating Color Repair Cream.
It dries quickly and colors well without being sticky.
The cream is easy to spread and gives a natural finish.
No color transfer after drying.
The color lineup includes 47 colors, and you can mix their colors just like paint.
Easy to remove with a remover or water, so you don't have to worry about mistakes.
Can be applied with fingers; the cream left on your fingers can be easily removed with soap and hot water.
Resistance to bending after drying is superior to other products.
Can be used on a wide range of surfaces such as sofas by diluting with "Universal Leather Lotion" or water.
Please note that this product cannot be used on suede or enamel.
This video helps you understand its features and how to use the repair cream.
Demerits of Saphir
There are almost no disadvantages of Saphir, but if I had to give one, it would be its smell. Not only Saphir, but all leather goods creams have the same smell as shoe cream.
But it's not a headache-inducing smell like organic solvents, and kind of like a sweet, indescribable smell.

Mickey
I have rhinitis and am very sensitive to the smell of chemical products, which makes me feel sick, but Saphir is completely not a problem for me.
It dries quickly, so you can use it immediately after repairing, but if you are concerned about the smell, I recommend drying it in the dark place for a while after fixing it until the smell fades away.
Saphir is available in 47 colors
Saphir Renovating Color Repair Cream is available in whopping 47 colors.
Even if you have a high-grade leather bag with a unique color, you will be able to find the color you want to repair with the 47 colors.
You can also mix the creams if you don't have the desired color.
It's like paints and very convenient.
In my case, I bought black and brown at first, and then gradually increased the number of colors to six: black, brown, navy, yellow, cherry, and white!
The cap and other parts are a little dirty and unsightly, but here is the image of the creams that I have.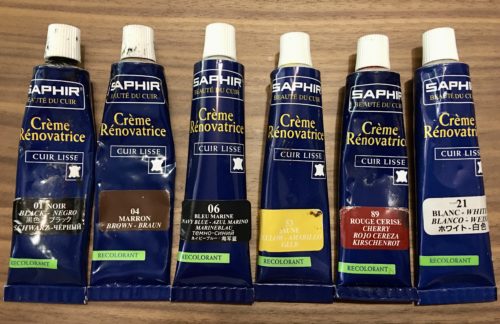 This is the side of the box and the color label on it. It is in a box like this image.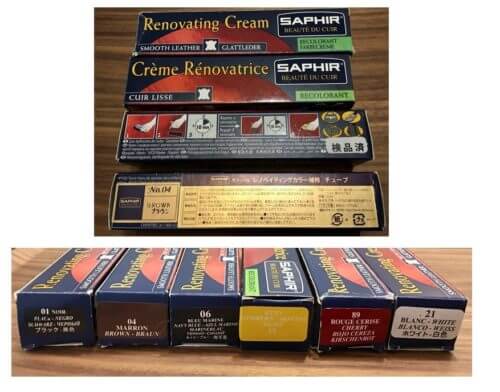 The brown color is indicated as maroon brown, but it is number 04, so it is the same color as the brown sold on Amazon.
What you can do with Saphir Renovating Color Repair Cream
Saphir Color Repair Cream can easily repair such leather products.
What can be repaired;
Scrape on the four corners of the bottom of the bag
Fading or discoloration of bag handles
Rubbing on shoe heels
Rubbing on wallets
Rubbing on coin purses
Rubbing on business card cases
Scratches and color fading on sofas
Scratches and scuffs on leather jackets
Scratches on other leather goods
It really solves a lot of problems with leather products!
リンク
How to repair scratches, peeling, scraping, discoloration, and cracks on leather products
Now, let's talk about how to repair leather products.
*Please check by applying small amounts on an inconspicuous area before actually use the cream.
Goods to be prepared for repairing leather goods
The following is a list of things you should prepare in advance. Some of them may not be required, so I will explain them in detail later.
Dusting brush or soft cloth
Cotton swabs
A container for the cream
Newspaper or other paper to place underneath to prevent staining
Disposable gloves (if available)
Saphir Renovating Color Repair Cream
Universal Leather Lotion (if you have)
The Universal Leather Lotion is another Saphir product that can remove dirt from leather and moisturize and nourish leather at the same time. For repairs, it is used to soften the cream when applying to a large area. If you don't have one, you can replace it with water.
However, it might be good to purchase a bottle because it will nourish the leather and make the hardened leather soft and supple again. If you buy one, it might be enough for a lifetime…
リンク
Procedure for repairing leather products
*All leather products can be repaired using this procedure.
①Prepare the goods necessary for repair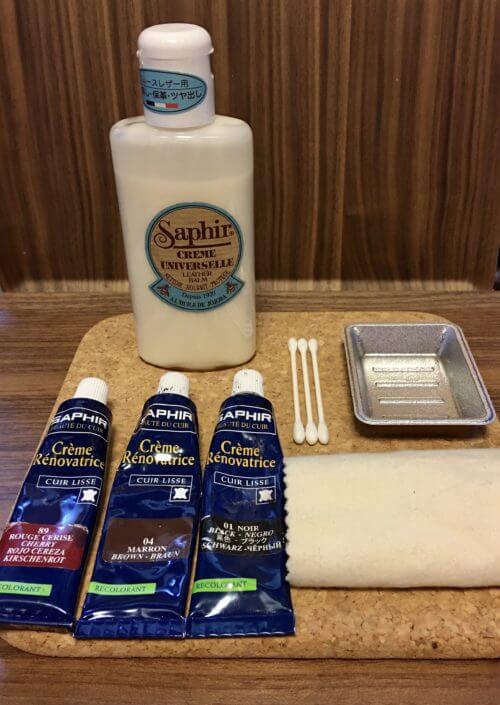 If you want to dilute it with water, prepare a small container filled with water. This time, I used a soy sauce container from a meal delivery service as a container for the cream. It's convenient because you can just throw it away after use.
②Use a dusting brush or soft cloth to remove dust and dirt from the surface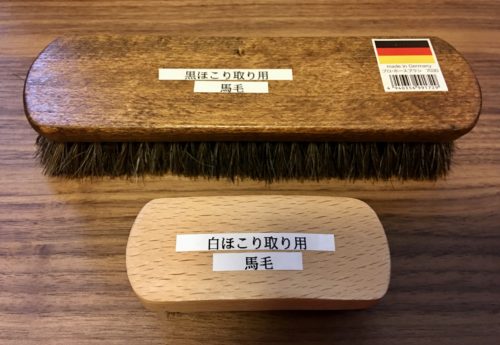 If you have a dusting brush for shoes, you can use the brush or a soft cloth to remove dust and dirt quickly.
For example, at our home, we have a horsehair brush of M. Mowbray that we use to remove dust from our shoes and remove dust.
③If there are any stained areas, use an eraser or a stain remover such as "Universal Leather Lotion" mentioned earlier to remove the stain.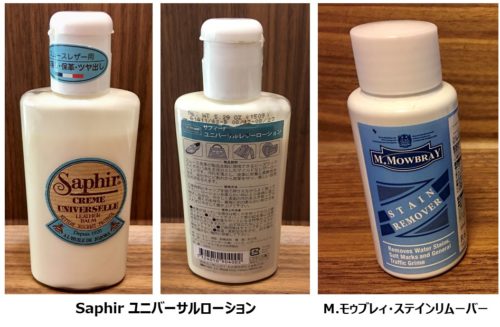 If the stain is too strong to be removed, it is recommended to use a remover such as M. Mowbray Stain Remover, specially designed to remove stains from leather. This remover is a "water-based" type that is gentle on leather and has high cleaning power.
④Put the Saphir Color Repair Cream in a container. If you want to adjust the color, add some colors.
⑤Take a cotton swab and put a little bit of repair cream on the small parts.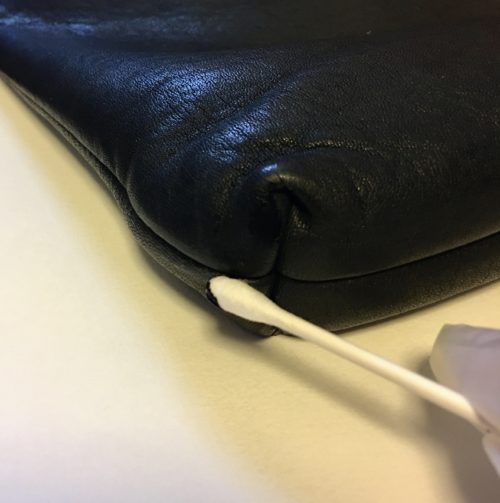 ⑥For large areas, use Universal Leather Lotion, or if you do not have it, dilute and mix the cream with water and apply by hand.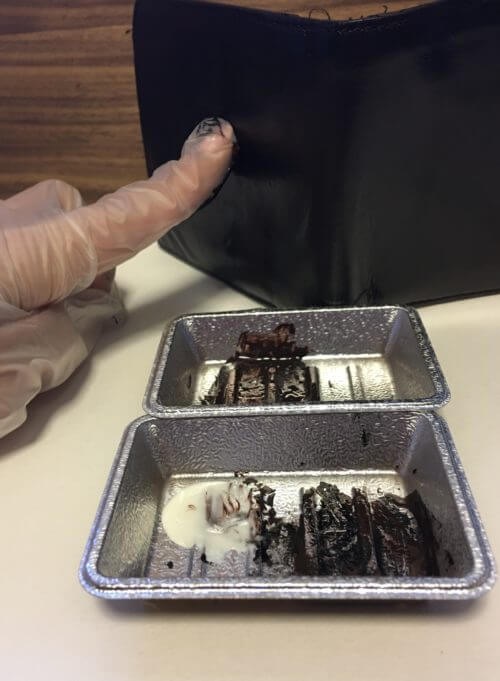 ⑦Let it dry well for about 20 minutes.
⑧Wipe up with a mitten or a soft cloth.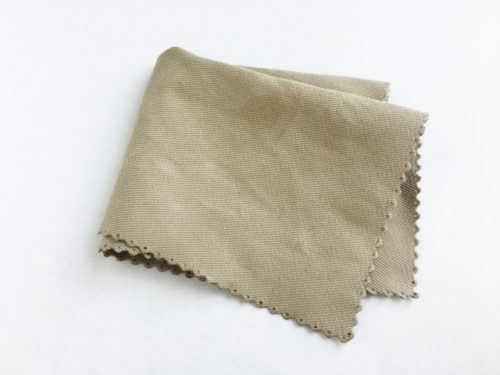 ⑨If you want to make it shiny after it dries, use M. Mowbray's Delicate Cream or other products to nourish, moisturize and soften it.

Shoe Nourishing Delicate Cream for Leather Goods 60ml
These are the steps to repair leather products.
Using Saphir Renovating Color Repair Cream to fix leather products
Repairing a black leather handbag that has turned white due to wear and tear at the bottom corners.
First, I am repairing a black leather shoulder bag of Kitamura, a popular handbag store in Japan, which has turned white due to wear at the bottom corners.
Leather handbag before repairing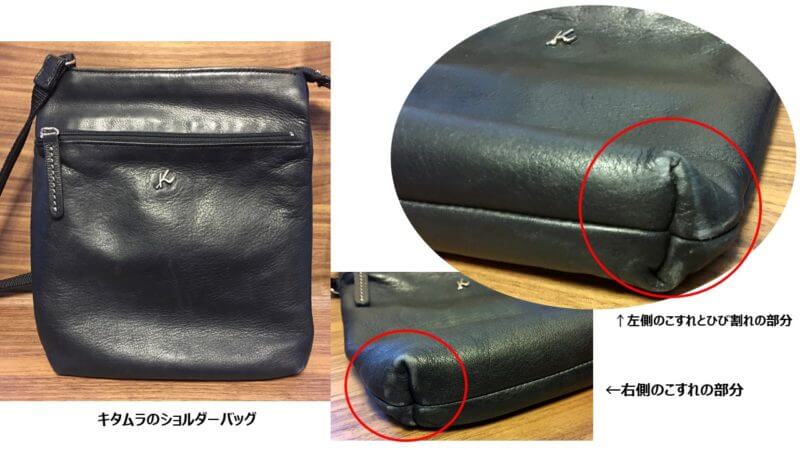 The bottom part is rubbed off and has turned white. On the left side, there is a crack, so I can't take it outside as it is…
Since this bag is black, I will use black repair cream. Also, it is a small area, so I used a cotton swab to repair it. It's really easy!
Repairing a shoulder bag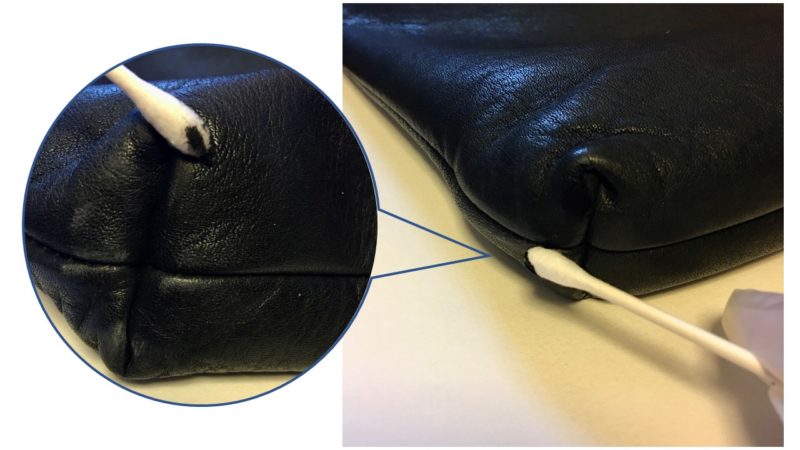 Shoulder bag after repair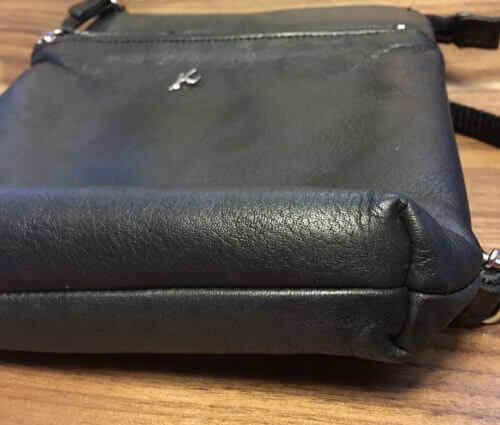 This is right after it is dried. How do you think? It looks completely different, doesn't it?
All the whitish areas caused by rubbing are gone!
After this, you can apply Saphir's Universal Leather Lotion or M. Mowbray's Delicate Cream to soften the leather and make it more shiny.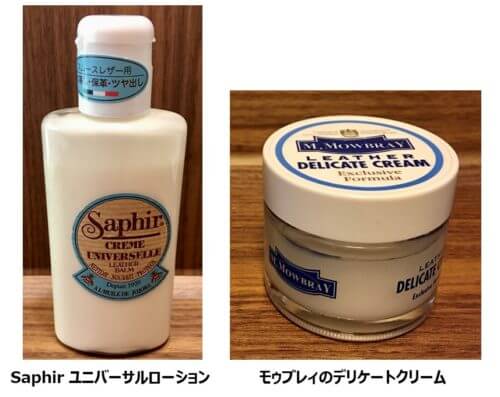 By the way, if you don't want to bother with dust removal or preparation of goods, you can skip them and just apply the cream directly to the area you want to fix with your fingers and wipe it off with an appropriate cloth after it dries.
Repairing a COACH leather keyholder that was also rubbed and tattered at the corners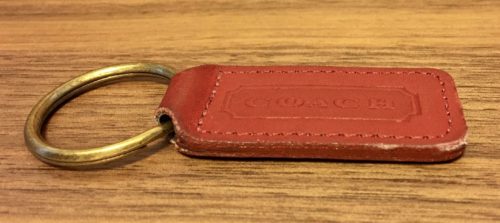 The corners of the COACH leather keyholder are also rubbed and whitish.In addition, it's kind of peeling off, too.
Its color is reddish-brown, so I used brown repair cream mixed with a little bit of cherry repair cream.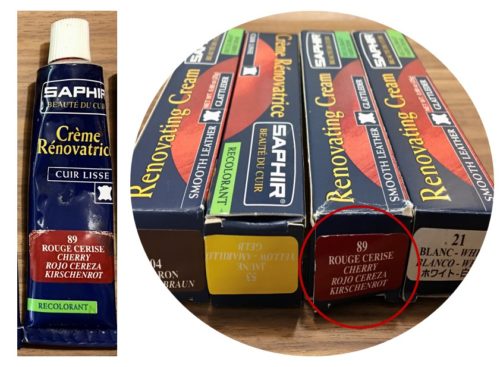 Doesn't cherry color seem to be not used that often?
I bought the cherry color is because I thought if I mixed it with black and brown to repair brown leather goods, I could make various brown colors such as dark brown and reddish-brown.
Red cream is also available in Saphir, but it is a little too bright, and I didn't think I would use it as a single color. Instead, I found the slightly brownish cherry to be more useful as a single color.
The affected area is also a small section, so I am using a cotton swab to fix it.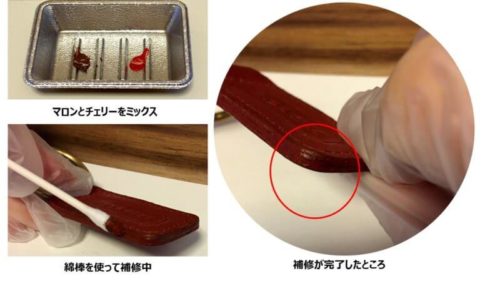 Images of the COACH keyholder during and after repair
A leather business card case with fine abrasions on the surface is repaired by applying repair cream to the entire surface
This is a black business card case.
It's hard to tell, but the leather is soft and has a lot of small abrasions on the surface.
Leather business card case before repairing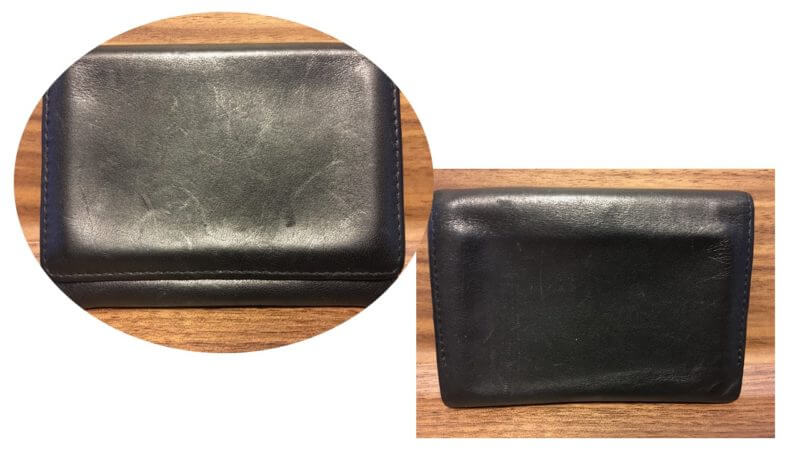 This business card case has scratches all over, so using a cotton swab will result in a bumpy surface.
If you want to apply the repair cream over a large area like this, you can apply it directly with your fingers, or if you have weak skin like me, you can wear disposable gloves.
The color I use is black repair cream.
Repairing a business card case
For large areas, it is difficult to spread the cream alone, so dilute it with Universal Leather Lotion (or water if you don't have it).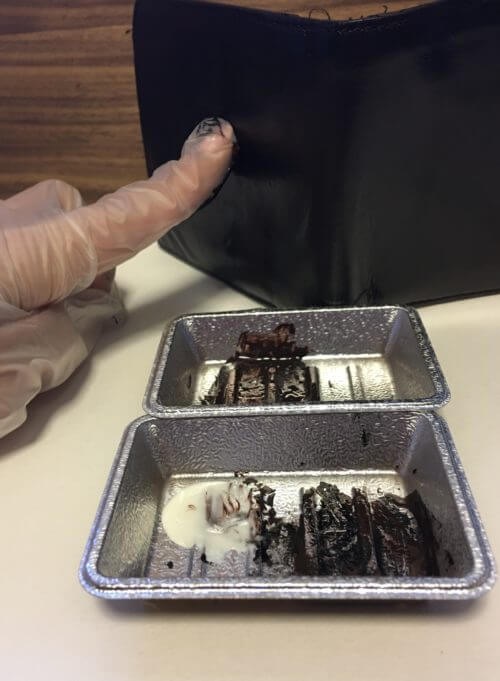 The whitish creamy staff in the image is the universal lotion. Since it is a lotion, it is more like a milky liquid than a cream.
Mix it with the black cream with your fingers, and spread it out quickly on the surface with your fingers.
Smoothly spread it out so that the back surface is as flat as possible.
Repairing the business card case completed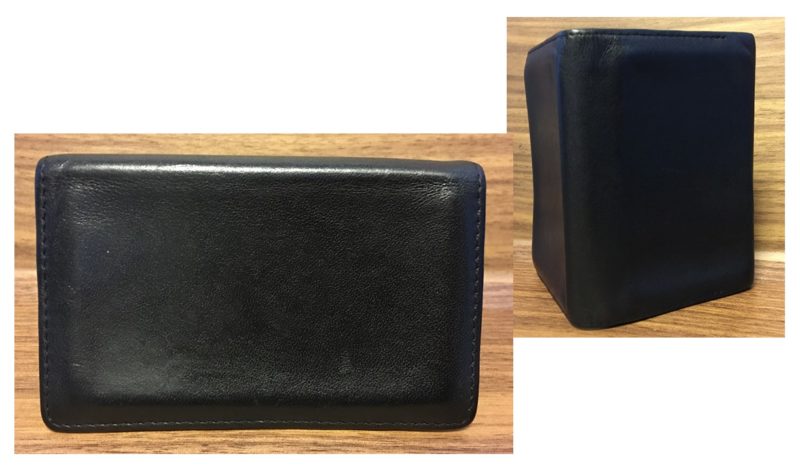 Here's a photo of the case wiped down after drying. What do you think?
The scratches are not entirely gone, but you can't tell at a glance, right?
On the lower left side, I applied the Universal Lotion afterward, and it moisturized it further.
Repairing a COACH leather wallet that is in terrible shape
This is a repair of a leather product in awful condition [part 1].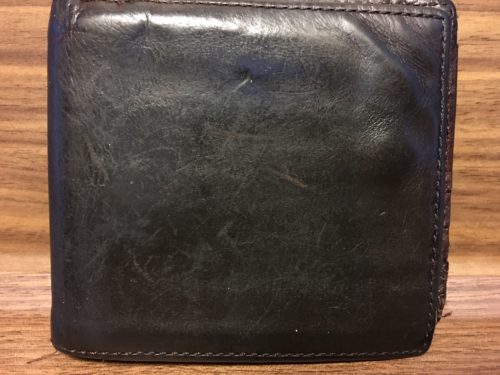 It's a COACH wallet in terrible condition. The threads are coming out too. But I can't throw it away because it's COACH.

It's not that bad, is it?
No, no, no… It's much worse on the inside.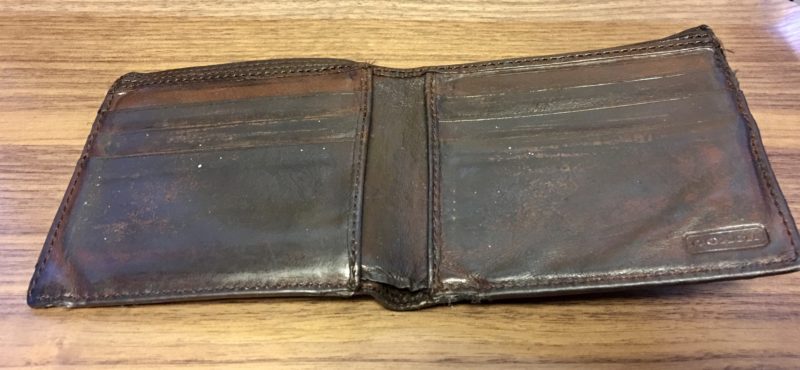 Mickey
I wonder how it got to be this bad…
Well, since the wallet is in this terrible state, I won't be shocked if the repair does not go successfully, so I'm going to take a chance and repair it.
This wallet is dark brown, so I mixed brown and black to create the color. I used the Universal Leather Lotion to spread the color over a large area.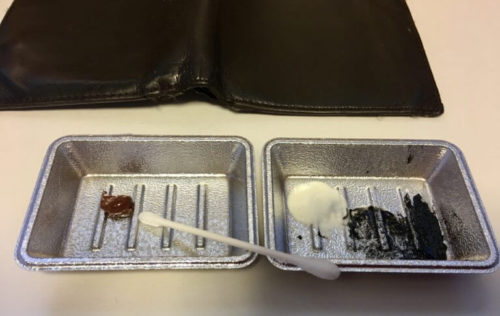 Anyway, I apply it with my fingers without worrying too much.
Here's a picture of the inside after I finished applying the cream and let it dry and polished up nicely.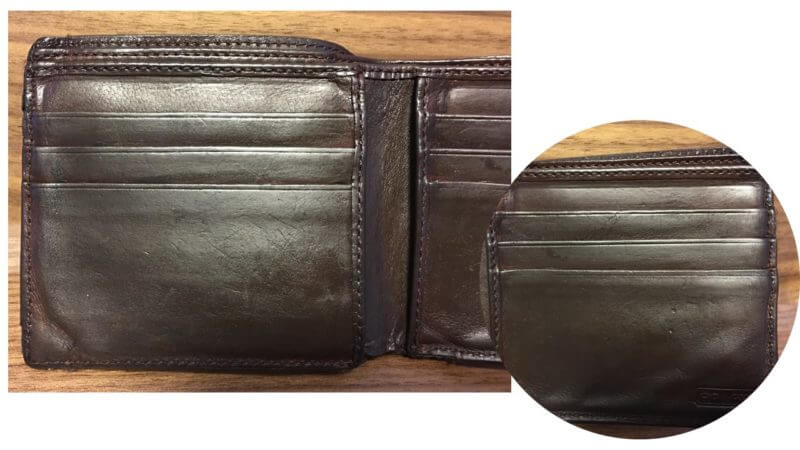 What do you think? It's been fixed rather well, isn't it? At least it's a big difference from the first state.
I think it will be even better if I repeat the same process one more time.
This is what it looks like on the outside of the wallet.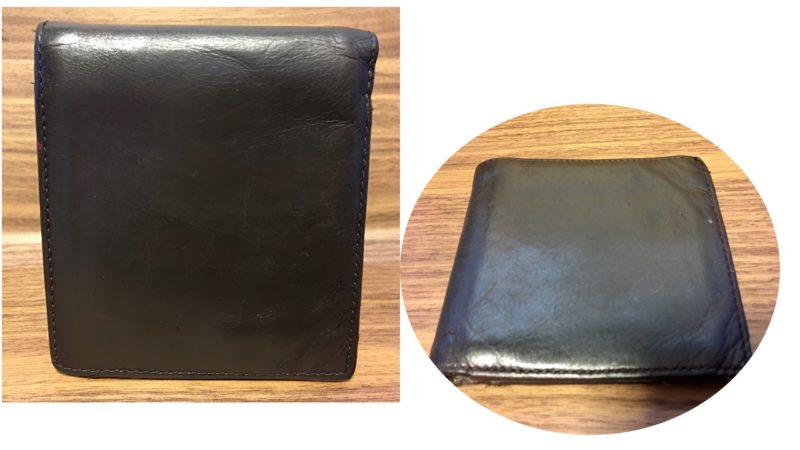 I also cut the thread that was sticking out. Now I think I can use it again.
This wallet was in such a state because I put it in the back of a drawer and forgot about it.
If I repair it earlier before it gets this bad, I can get the leather back to its original condition better.
リンク
Repairing a coin purse that is in terrible shape
This is a repair of a leather product in terrible condition [part 2].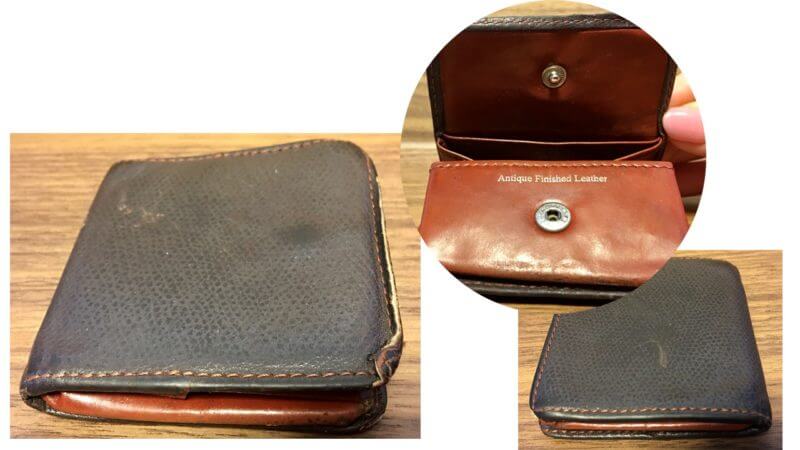 To show you how great Saphir's repair cream is, I'm going to repair a coin purse in a really really terrible condition!

Shouldn't you just throw it away?
Indeed (laughs). If it weren't for the repair cream, I'm sure it would go in the trash immediately.
But let's trust the Saphir Renovating Color Repair Cream to do the repairing!
This coin purse is a lighter dark brown color on the outside and camel color on the inside.
A mixture of black, brown, and cherry is applied to small areas outside, and then another mixture of universal leather lotion is applied to a large section with fingers.
Recreating the camel color was somewhat tricky, but I could make the color with quite a lot of cherry and a little bit of black.
I used a cotton swab to apply the corner of this area first.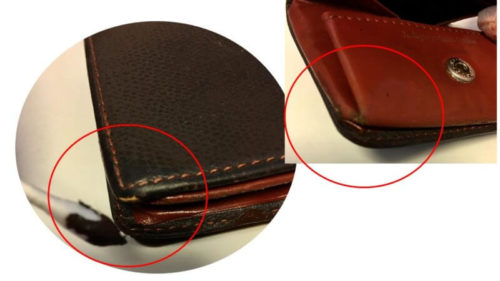 And here it is, roughly applied and drying.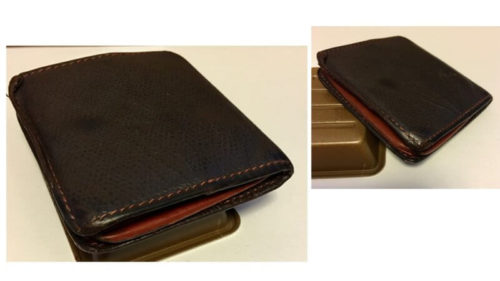 The shine is already completely different, isn't it? There is a little too much paint on the left side because I applied it roughly…
Now, it's done, and I'm thrilled. The finished product looks like this. What do you think?
This is the outside.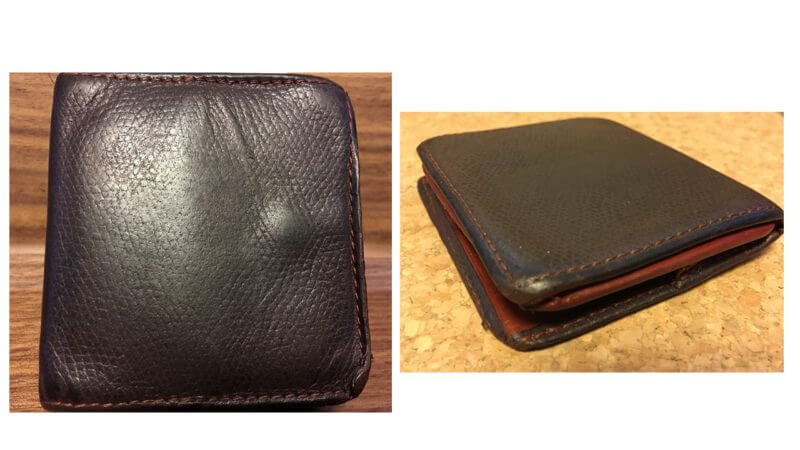 This is what it looks like on the inside.
Yes, it is shinning again pretty well, and it seems I can still use this, right?
However, if the leather is quite dry like this coin case, it may work better to use the Universal Lotion to nourish the leather instead of water.
リンク
Finally, this time, I applied Mowbray's Delicate Cream to moisturize it.
リンク
If shoe creams can be used to repair leather bags and wallets?

But if you use the repair cream, why not just use a shoe cream to fix it?
The first thing that comes to everyone's mind is, "It's leather, so why don't I just use a shoe cream to repair it?"
I have both Columbus shoe cream and Saphir shoe cream, which are representative of shoe creams. If I can avoid buying a repair cream, I'd like to avoid buying it.

Mickey
So, of course, I tried it with a shoe cream first!
I used a shoe cream to repair scratches and discoloration on a handbag, and at first glance, the result seemed to be very good.
I thought, "Okay, it looks like shoe cream is good enough."
It was not long before I realized this… After I put the black leather handbag on my shoulder and went out, then the color of the cream had shifted to my clothes….
My friend told me, "Hey, there's something black on your shoulder. There was a black stain on the cloth of my shoulder.
Apparently, shoe creams are not designed to be rubbed with one's clothes.

Mickey
I was shocked to find that no matter how hard I tried to wash the color-shifted clothes with detergent and soak them in bleach, but it didn't come off.
By the way, let me be clear that I used my handbag after the shoe cream had dried thoroughly for a few days, so it's not like the cream came off because I used the handbag before it dried well, just in case you were wondering.
So, please be very careful not to use shoe cream for anything other than shoes, ever!
Summary【SAPHIR Leather Repair Cream】Easy Repair Method of Peeling, Scratches, Color Fading of Leather Products
I explained in detail how to repair discoloration, peeling, rubbing, and scratches on leather products and hide them with Saphir Renovating Color Repair Cream.

Mickey
It's really easily done with the repair cream!
The good thing about leather products is that they can be used for a long time if repaired with the method that I explained.
A good quality bag or branded item can be used for generations. This is the difference from synthetic leather items.
For this reason, I try to buy leather bags and goods as long as they are not too heavy. That way, you can use the leather goods for a long time while repairing them if required.
Please give it a try!
リンク
This is a thorough explanation of Renapur, a convenient cream that can take care of everything with just one bottle!
https://indoor-enjoylife.com/en/renapuren/
How to Repair Flaking and Peeling Faux Leather Bag