Taste Scoring
★★★★★  Cooking time: 35 minutes, Preparation: 5 minutes + Hot Cook: 30 minutes
---

Ken
I found an official recipe for a popular Taiwanese staple, Lu Lo Rice, to be cooked in the Hot Cook! It can be made quickly, easily, and deliciously using ponzu vinegar (Ajipon sauce).
The key to the flavor is "five-spice powder" (wu xiang fen), a spice commonly used in Chinese and Taiwanese cuisine. It is a spice that can be found in ordinary supermarkets these days.
Delicious flavors, you will surely be glad to have cooked it! You can easily enjoy this classic Taiwanese food stall dish at home.
It is made with five-spice powder, fried onions, cola, and ajipon.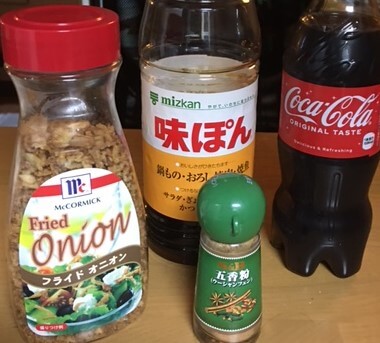 I had made Lu Lo Rice some months ago with my original recipe, which was also delicious, but the official recipe I have just discovered uses fewer seasonings and is much easier and tastier!
The five-spice powder (wu xiang fen) is necessary as the recipe in my original recipe, but in this official recipe, I was able to make it without using Hakkaku (octagonal horns) oyster sauce.
リンク
I think you can substitute regular onions (½ piece) for fried onions, but the flavor is concentrated and tastier with fried onions. So I would prepare fried onions if possible.
リンク
The leftover fried onions can be used to serve over salads and other dishes every day.
WHAT IS HOT COOK?
Hot Cook is Japanese popular cookware, waterless automatic cooking pot series, made by SHARP. Just put the ingredients in the pot and press the switch to automatically prepare a variety of dishes.
HOT COOK 1.6L size (for 2-4 people), Latest model with a fluorine-coated inner pot  

リンク
This article introduces recipes using the Hot Cook, which has become an indispensable part of our home.
Hot Cook Recipe [Ajipon Lu Lo Rice] One Point Advice
The "pork" used is chunks of pork belly in the official recipe. However, it was pretty expensive at the supermarket, so instead, I used cheap pork for curry and cut them into 1 to 2 cm cubes.
This is more economical, easier to use, and the finished product is soft, tasty, and has a good amount of fat, so I recommend using pork for curry instead.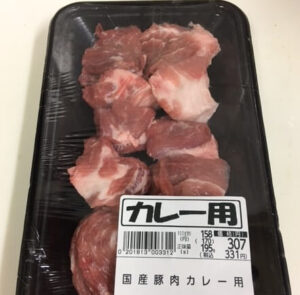 Hot Cook Recipe [Ajipon Lu Lo Rice] Ingredients: 4 people
◆Ingredients
Pork: about 200g *I recommend cutting pork for curry into 1 to 2 cm cubes.
◆Seasonings
Ajipon: 1/2 cup (100ml)
Coke: 1/2 cup (100ml)
Fried onions: 20 g
Five-spice powder: 1/2 teaspoon
◆2 boiled eggs
Hot Cook Recipe [Ajipon Lu Lo Rice] How to make
STEP 1:Prepare ingredients
Prepare seasonings.
Cut pork into 1 to 2 cm cubes.
STEP 2:Put all ingredients in the Hot Cook inner pot
First, put the pork in the pot.
Next, add all seasonings.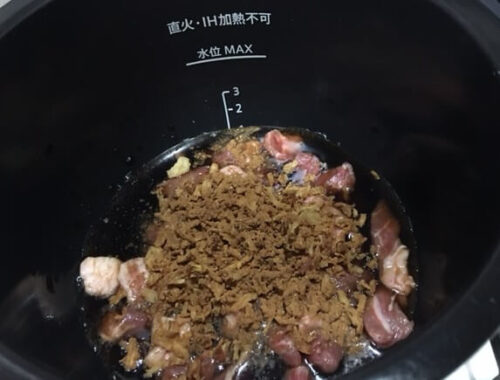 STEP 3:Press the cook menu button♪
Select a menu => Search by menu number => No.352 (Ajipon Lu Lo Rice) => Start cooking => Start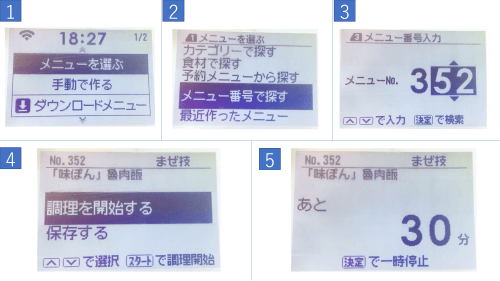 STEP 4:Complete!
When you hear the finishing chime, open the lid, mix it up, and pour over a bowl of white rice to serve.
If desired, prepare two boiled eggs, cut in half, and garnish.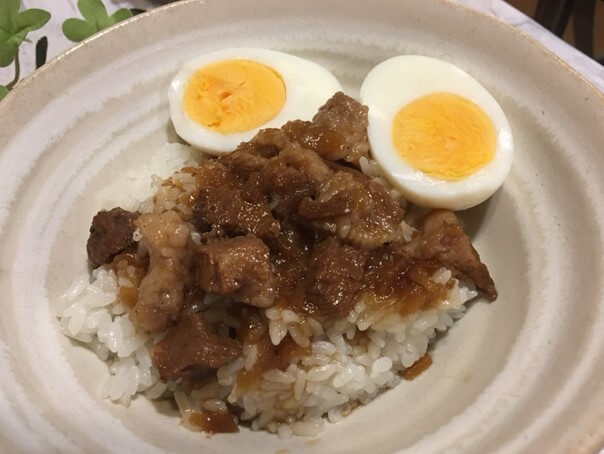 It is also delicious served with a little more of the juice over white rice, a bit like chazuke (rice with green tea).
Also, if you use five-spice powder, the aroma will remain a little after you wash the inside of the Hot-Cook. If you are concerned about it, you can just sterilize the pot by boiling it, and the smell will disappear.
How to sterilize by boiling (Hotcook operation screen):
Make manually => Make soup => Do not Mix => Set cooking time to "20 minutes" => Start
Click here for an article on original recipes using Hakkaku and oyster sauce.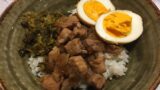 Hot Cook Recipe [How to Make Lu Lo Rice ] The classic Taiwanese food stall bowl!
After a while of cooking, the aroma of a nostalgic Taiwanese food stall wafted out of the Hot-Cook! It is a delicious aroma. I served the first bowl with a bit ...
HOTCOOK 1.6L size (for 2-4 people), Latest model with a fluorine-coated inner pot  

リンク
HOTCOOK 2.4L size (for 2-6 people), Latest model with a fluorine-coated inner pot  

リンク
 Useful notes

Ken
Good news for those who use the old model of Hot Cook with stainless steel inner pot! The long-awaited hot cook fluorine-coated inner pot is now on sale as an option!
I bought it online!
Now you can cook without worrying about cooking menus that stick to the bottom of the pot. Check it out if you are interested!
The fluorine-coated inner pot has FB at the end of the model number. Please be careful when purchasing. F refers to "fluorine."
Sharp TJ-KN1FB Inner Pot for Hot Cooks, 0.4 gal (1.6 L) Type, Fluorine Coating

リンク
Sharp TJ-KN2FB Inner Pot for Hot Cooks, 0.6 gal (2.4 L) Type, Fluorine Coating

リンク
Sharp TJ-KN05FB Inner Pot for Hot Cooks, (1.0 L) Type, Fluorine Coating

リンク