Taste Scoring
★★★★★  Cooking time: 30 minutes, Preparation: 15 minutes + Hot Cook: 15 minutes
---

Ken
After a while of cooking, the aroma of a nostalgic Taiwanese food stall wafted out of the Hot-Cook! It is a delicious aroma. I served the first bowl with a bit of broth, while the second bowl was filled with much broth!
Lu Lo Rice is a typical Taiwanese mother's dish and can be found in street stalls and restaurants in Taiwan.
I had it for the first time when I was in Taiwan on a business trip many years ago and was fascinated by its deliciousness! It has a lingering taste, with subtle differences in spiciness and sourness depending on the food stall.
Lu Lo Rice was also featured in the Taipei version of the popular Japanese TV drama "Solitary Gourmet Season 5 (Kodokuno Gurume), a business trip to Taiwan.
The key ingredients of the secret sauce are spices called "five-spice powder and Chinese star anise. Both are now available at nearby supermarkets. A small bag can be purchased for 100-200 yen and used several times.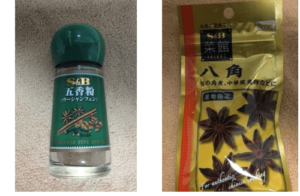 So easy to make, you've got to try it!
WHAT IS HOT COOK?
Hot Cook is Japanese popular cookware, waterless automatic cooking pot series, made by SHARP. Just put the ingredients in the pot and press the switch to automatically prepare a variety of dishes.
HOT COOK 1.6L size (for 2-4 people), Latest model with a fluorine-coated inner pot  

リンク
This article introduces recipes using the Hot Cook, which has become an indispensable part of our home.
Hot Cook Recipe [Lu Lo Rice] One Point Advice
We recommend using fatty curry/stew meat for pork, as it is relatively inexpensive and can be purchased in larger quantities. Pork belly block meat is a little more expensive but also tasty.
Hot-Cook cooking does not require water because water will be released from the onions.
Commercially available pickled Takana with chili goes well with this dish for condiments.
Hot Cook Recipe [Lu Lo Rice] Ingredients: 2 people
◆Ingredients
Pork: about 200g *cutting pork for curry into 1 to 2 cm cubes is recommended.
Onion: 1/4 piece (about 50g) *chopped
Boiled egg: 2 pieces *peeled
Sesame oil: 1 tablespoon
◆Seasonings
Sake: 2 tablespoons
Soy sauce: 2 tablespoons
Vinegar: 2 tablespoons
Sugar: 2 tablespoons
Oyster sauce: 1 tablespoon
Ginger: 1 teaspoon *Chewed or grated ginger is OK
Five-spice powder: about 1/4 teaspoon
Hakkaku: 1 piece
◆Optional
Commercially available pickled Takana with chili (Karashi-Takana)
Hot Cook Recipe [Lu Lo Rice] How to make
STEP 1:Prepare ingredients
First, make boiled eggs and peel them from the shell (preferably half-cooked).
Cut pork into 1 cm cubes.
Finely chop the onion.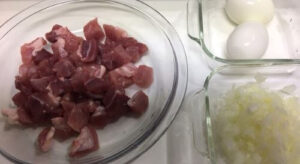 STEP 2:Put all ingredients in the Hot Cook inner pot
First, add sesame oil and onions.
Next, add pork.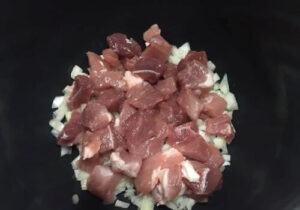 Finally, add the peeled-boiled egg and all the seasonings.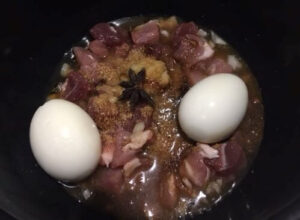 STEP 3:Press the cook menu button♪
Manual Cook → Stew → Mix → Set cooking time to
"15 minutes" → Start

STEP 4:Complete!
When you hear the finishing chime, open the lid, take out the egg first and cut it in half. Then, pour over a bowl of white rice to serve.
If desired, prepare spicy Takana as yakumi (condiments).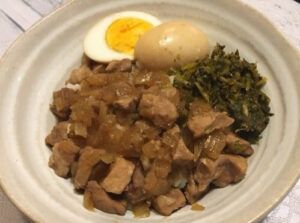 You can also add Ra-yu (chili oil) for extra spiciness or grated garlic for seasoning. Then, please enjoy the dish by serving it with various condiments and seasonings!
リンク
リンク
Click here for an article on easy Lu Lo Rice made with ajipon.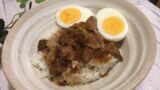 Hot Cook Recipe [How to Make Ajipon Lu Lo Rice ] Easy-to-make popular Taiwanese dish!
I found an official recipe for a popular Taiwanese staple, Lu Lo Rice, to be cooked in the Hot Cook! It can be made quickly, easily, and deliciously using ponz...
HOTCOOK 1.6L size (for 2-4 people), Latest model with a fluorine-coated inner pot  

リンク
HOTCOOK 2.4L size (for 2-6 people), Latest model with a fluorine-coated inner pot  

リンク