Taste Scoring
★★★★★  Cooking time: 70 minutes, Preparation: 20 minutes + Hot Cook: 50 minutes
---

Ken
I am sure the recipe will be in our next Top 10 Hot Cook Delicious Recipes! The generous amount of garlic sauce goes well with the chicken. And the sweetness of the sweet potatoes is irresistible! Just eating this dish was enough to make me burst with energy, and I gobbled it up in no time at all. It's a dish I would eat again in a heartbeat! It goes well with white rice, bread, and of course, a glass of wine!
Shkmeruli is a traditional Georgian dish of chicken stewed in a garlic sauce. I knew it existed because it had been introduced on TV before, but I had never had it before.
I found this Shkmeruli in Sharp's Hot-Cook recipe section and immediately tried to make it.
The official recipe uses potato starch, but we happened to be out of potato starch at home, so I made it with flour instead. Even so, it turned out delicious with good consistency.
I saw that they added cheese on TV before, so I added melted cheese at the end, which was another success!
The way it is cooked is innovative and amazing: first, it is cooked for about 40 minutes with no water, then once it is done, the lid is opened, and milk is added, and then it is cooked for 3 minutes in "making soup" menu.
I was nervous about how it would turn out, but it turned out to be a truly delicious dish.
Thanks to the person who developed this recipe!
WHAT IS HOT COOK?
Hot Cook is Japanese popular cookware, waterless automatic cooking pot series, made by SHARP. Just put the ingredients in the pot and press the switch to automatically prepare a variety of dishes.
HOT COOK 1.6L size (for 2-4 people), Latest model with a fluorine-coated inner pot  

リンク
This article introduces recipes using the Hot Cook, which has become an indispensable part of our home.
Hot Cook Recipe [Shkmeruli] One Point Advice
I think the key to flavor is to use plenty of garlic. I suppose you could use a tube of garlic, but I recommend using fresh garlic if you can.
You need to remove the milk you add to finish the soup from the refrigerator in advance and brought to room temperature to keep the soup from getting cold and tastier.
When the soup is ready to serve, use a spoon to scoop the whole mixture from the bottom of the pot, being careful not to let the sweet potatoes fall apart so that the mixture becomes thicker.
Since I was out of potato starch, I used light flour, but it thickened nicely and tasted delicious. It is better to put the chicken in a storage bag and season with salt and pepper before sprinkling potato starch.
The sweetness of sweet potatoes is excellent. It would be delicious even if you add more (about 300g for 2 servings).
Hot Cook Recipe [Shkmeruli] Ingredients: 2 people
Chicken thigh: 1 piece (250g) *Cut into bite-size pieces with the skin on
Sweet potato: 1 piece (200g) *Cut into 1.5-2cm thick chunks with the skin
Garlic: 6 cloves (about 40g) *Crush with a knife
Butter: 25g *Salted butter is OK
Flour: 2 tablespoons (about 10g)
Salt: a little less than 1 teaspoon (about 4.5g) *The amount of salt is calculated as about 0.6% of the combined weight of the ingredients and milk.
Pepper: a little (about 0.5 g)
◆Finishing
Milk: 200 ml (1 cup) *It is better to take it out of refrigeration and bring it to room temperature beforehand.
Melted cheese: 2 slices (about 40g) *Any kind of cheese that melts is acceptable.
◆Parsley: a little to taste, sprinkled on the finished product.
Hot Cook Recipe [Shkmeruli] How to make
STEP 1:Prepare ingredients
First, wash the sweet potatoes well in their skins and cut them into round slices or chunks about 1.5 to 2 mm thick.
Soak the cut sweet potatoes in water for about 15 minutes.
Then, cut the chicken thighs, skin and all, into desired bite-size pieces.
Put the cut chicken into a storage bag, add 4.5 g salt, 0.5 g pepper, and 2 tablespoons flour, and knead well with your hands.
Next, measure out 25 g of butter.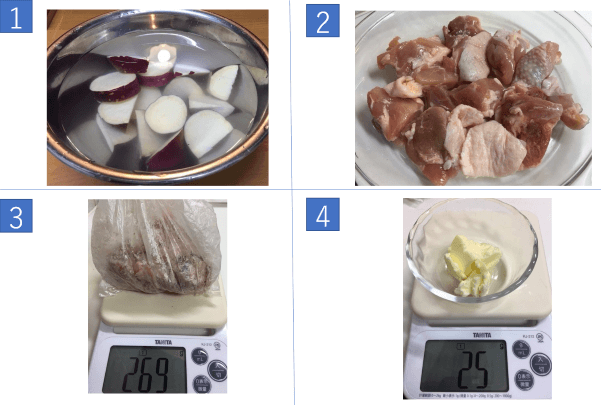 Crush the garlic with a knife.

STEP 2:Put all ingredients in the Hot Cook inner pot
First, put all the chicken from the storage bag into the pot.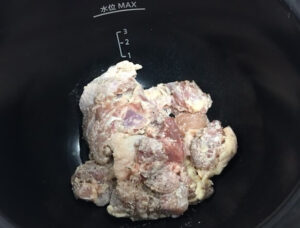 Next, add the garlic and sweet potatoes.
Finally, put the butter in the center of the pot.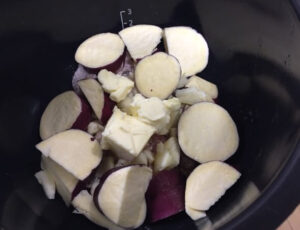 STEP 3:Press the cook menu button♪
Select a menu => Search by menu number => No.511 (Shkmeruli) => Start cooking => Start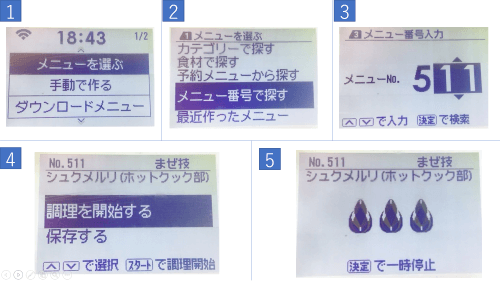 Here, prepare milk and melted cheese.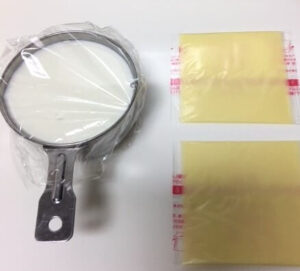 STEP 4:Finish and Restart♪
Open the lid when the finish chime sounds.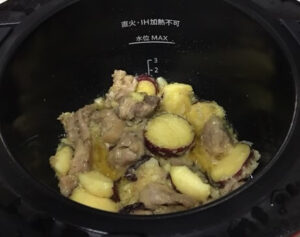 Put the prepared milk and melted cheese into the pot.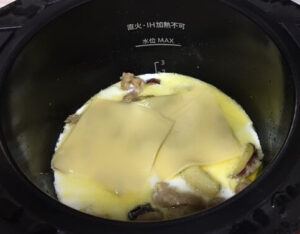 Put the lid on again, and once done, press the undo key.
Make manually => Make soup => Do not mix =>
Set cooking time to "3 minutes" => Start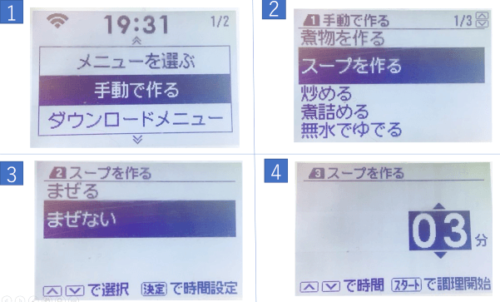 Since the inside of the pot is already hot, When pressing the start button, it immediately starts the 3-minute cooking process.
STEP 5:Complete!
When you hear the finishing chime, open the lid using a ladle, scoop the whole mixture from the bottom of the pan, and be careful not to let the sweet potatoes fall apart.
When mixed, the mixture will thicken. When thickened, place in a bowl and sprinkle with parsley, if desired.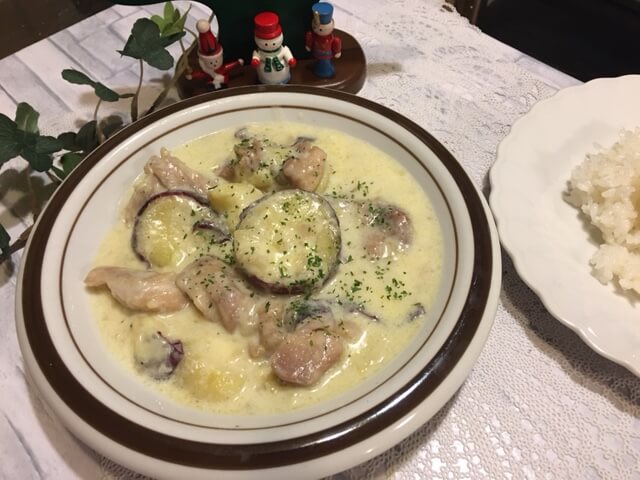 They were so good that I'm thinking of making them again this Christmas!
Thanks to those who developed the recipe!
HOTCOOK 1.6L size (for 2-4 people), Latest model with a fluorine-coated inner pot  

リンク
HOTCOOK 2.4L size (for 2-6 people), Latest model with a fluorine-coated inner pot  

リンク
 Useful notes

Ken
Good news for those who use the old model of Hot Cook with stainless steel inner pot! The long-awaited hot cook fluorine-coated inner pot is now on sale as an option!
I bought it online!
Now you can cook without worrying about cooking menus that stick to the bottom of the pot. Check it out if you are interested!
The fluorine-coated inner pot has FB at the end of the model number. Please be careful when purchasing. F refers to "fluorine."
Sharp TJ-KN1FB Inner Pot for Hot Cooks, 0.4 gal (1.6 L) Type, Fluorine Coating

リンク
Sharp TJ-KN2FB Inner Pot for Hot Cooks, 0.6 gal (2.4 L) Type, Fluorine Coating

リンク
Sharp TJ-KN05FB Inner Pot for Hot Cooks, (1.0 L) Type, Fluorine Coating

リンク