Taste Scoring
★★★★★  Cooking time: 48 minutes, Preparation: 15 minutes + Hot Cook: 30 minutes + Heating extension: 3 minutes
---

Ken
The finished dish tastes even better than I imagined, and unlike its visual impact, it is very soft and tender, making it an excellent meatloaf Hamburg. The tomato ketchup-based sauce and melted cheese go well with beer or wine. But, of course, it also goes well with white rice!
What's most amazing is the impact of the photo of the official Hot Cook recipe. It looks like a "chunk of meat" in the shape of the bottom of Hot Cook turned upside down.
I've been wanting to try making this recipe for a while, so I made a "whole meatloaf Hamburg" over the weekend.
When I think of meatloaf, I think of it as something that takes a long time to cook in the oven, but with the Hot Cook, I can just leave it alone, and it turns out quite delicious. It was easy to prepare and came out in no time at all.
This time I cut it in half and served it with white rice for two.
You can also cut it into smaller pieces and enjoy it as a snack or spread it on bread.
I highly recommend this dish!
WHAT IS HOT COOK?
Hot Cook is Japanese popular cookware, waterless automatic cooking pot series, made by SHARP. Just put the ingredients in the pot and press the switch to automatically prepare a variety of dishes.
HOT COOK 1.6L size (for 2-4 people), Latest model with a fluorine-coated inner pot  

リンク
This article introduces recipes using the Hot Cook, which has become an indispensable part of our home.
Hot Cook Recipe [Whole Meatloaf Hamburg] One Point Advice
If you have a fluorine-coated inner pot, the meat will not stick to the bottom of the pot. But, if you have a stainless steel inner pot, the meat may stick to the bottom of the pot, in which case you should put aluminum foil on the bottom of the pot and put the meat on it.
Hot Cook Recipe [Whole Meatloaf Hamburg] Ingredients: 2-4 people
– Ingredients
Minced pork: about 300g
Onion, chopped as fine as possible: 1/4 (about 50g)
Egg: 1 egg
Milk: 1 tablespoon
Salt: about 1/3 teaspoon
Pepper: a little
Bread crumbs: 1 cup (I used 1 slice of bread)
– Mixed Sauce
Tomato ketchup: about 50g
White wine: 2 tablespoons
Worcestershire sauce: 2 tablespoons
– Finish
– For garnish (as desired)
Broccoli: 1 bunch (Boil in small bunches. You can also use Hot Cook to boil broccoli.)
Hot Cook Recipe [How to Make Boiled Broccoli] No stress of boiling water!
You don't need to boil water to boil Broccoli anymore! Furthermore, no water is used when boiling vegetables if you use Hot Cook. Since vegetables are boiled u...
Hot Cook Recipe [Whole Meatloaf Hamburg] How to make
STEP 1:Prepare ingredients
Prepare the minced pork. In our house, we use a food processor to make it from pork back rib.

Finely chop the onions as much as possible to make the texture of the finished dish better.
Prepare the bread crumbs. I didn't have bread crumbs this time, so I used the ears off of a regular loaf of bread and tore them off by hand.
Put the minced pork, onion, egg, milk, salt, pepper, and bread crumbs in a bowl.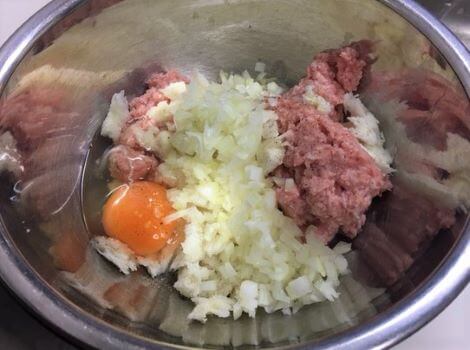 Mix well by hand. The more you mix, the better it will taste. For example, I put a food storage bag over my hands, put a rubber band around my wrist, and mixed for about 5 minutes.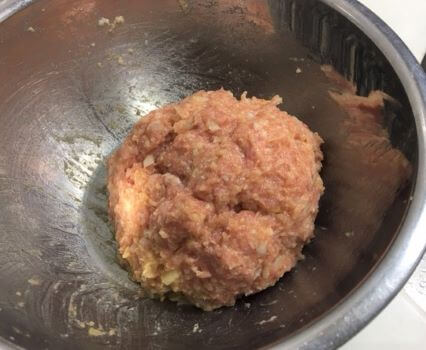 Mix the tomato ketchup, white wine, and Worcestershire sauce together.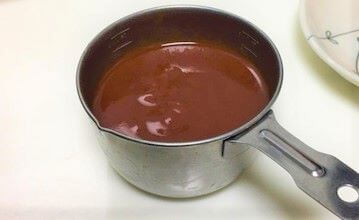 Measure out the melted cheese for the finishing.
STEP 2:Put all ingredients in the Hot Cook inner pot
First, place aluminum foil on the bottom of the Hot Cook inner pot and put the well-mixed meat on it.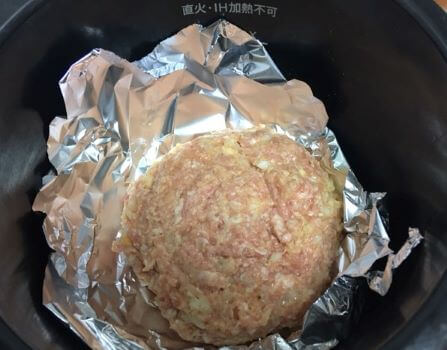 Pour all of the mixed sauce over the top.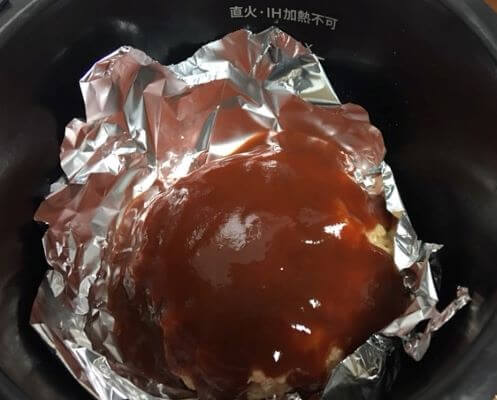 STEP 3:Press the cook menu button
Select a menu => Search by menu number => No.601 (Whole Meatloaf Hamburg) => Start cooking => Start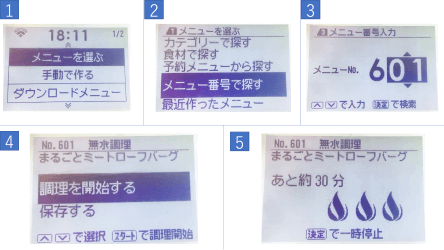 STEP 4:Add cheese and extend heating for 3 minutes
Open the lid and put the measured "melted cheese" on the top when you hear the finishing chime.

Cover the lid again and extend heating for another 3 minutes.

STEP 5:Complete!
When you hear the finishing chime, open the lid, remove the cooked meat to a large plate, and cut it into pieces of the desired size.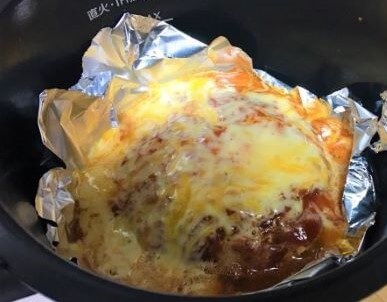 This time, I boiled broccoli in the Hot Cook and served it with white rice as a side dish.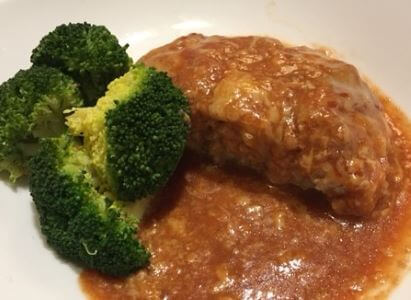 I made the dish with 300g of pork, and it was a pretty satisfying volume. I even enjoyed it as my lunch the next day!
Please give it a try!
HOTCOOK 1.6L size (for 2-4 people), Latest model with a fluorine-coated inner pot  

リンク
HOTCOOK 2.4L size (for 2-6 people), Latest model with a fluorine-coated inner pot  

リンク