Taste Scoring
★★★★☆  Cooking time: 55 minutes, Preparation: 10 minutes + Hot Cook: 35 minutes + Additional 10 minutes
---

Ken
It is a delicious Japanese broth dish that is especially good and warming during the cold season.
This dish was supposed to be ready in 35 minutes, but I extended the cooking time by another 10 minutes after opening the lid and tasting it.
As a result, the daikon retained its original shape, but the inside of the daikon became "soft and juicy" and had a "melt-in-your-mouth" texture, and the broth's flavor soaked into the daikon. The umami of the chicken also makes you eat a lot of white rice.
One of the great things about Hot-Cook is that meat and fish used for simmered dishes, curry, stews, etc., can be put into Hot-Cook pots "frozen" but still taste good.
I used fresh chicken this time, but we usually buy meat in large quantities, divide them into smaller portions, and freeze them for use.
With the Hot-Cook, we can directly place the frozen meat in small portions without needing to defrost each piece.
WHAT IS HOT COOK?
Hot Cook is Japanese popular cookware, waterless automatic cooking pot series, made by SHARP. Just put the ingredients in the pot and press the switch to automatically prepare a variety of dishes.
HOT COOK 1.6L size (for 2-4 people), Latest model with a fluorine-coated inner pot  

リンク
This article introduces recipes using the Hot Cook, which has become an indispensable part of our home.
Hot Cook Recipe [Simmered chicken and radish] One Point Advice
I recommend cutting daikon radish into 1-2 cm thick chunks. This size will make the daikon soft all the way to the center. The texture of the daikon is irresistible.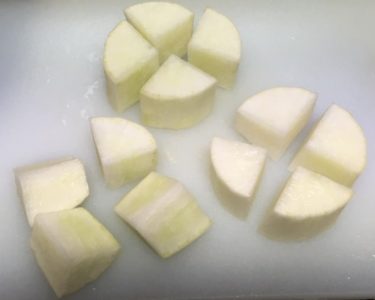 Hot Cook Recipe [Simmered chicken and radish] Ingredients: 4 people
Chicken thigh: 250 g (about 1 piece)
Daikon radish: 500 g (1/2 daikon) *Cut into 1 to 2 cm thick chunks)
Soy sauce: 3 tablespoons
Mirin: 3 tablespoons
Japanese soup stock: 1 teaspoon
Water: 2 tablespoons
Ooba (Shiso, Japanese basil): 4 leaves * As desired
*A dashi packet can be substituted for the Japanese soup stock and water.
Hot Cook Recipe [Simmered chicken and radish] How to make
STEP 1:Prepare ingredients
Cut chicken into bite-sized pieces.
Cut daikon radish into 1-2 cm thick chunks.
STEP 2:Put all ingredients in the Hot Cook inner pot
Pour soy sauce, mirin (Japanese sweet cooking rice wine), Japanese soup stock, and water in a Hot-Cook pot, add daikon radish and finally the chicken.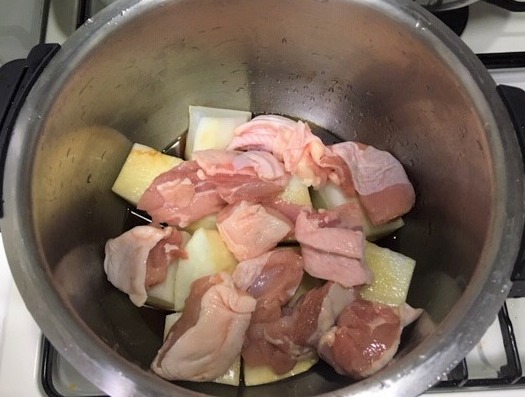 STEP 3:Press the cook menu button♪
Select a menu => Search by menu number => No.056 (Simmered chicken and radish) => Start cooking => Start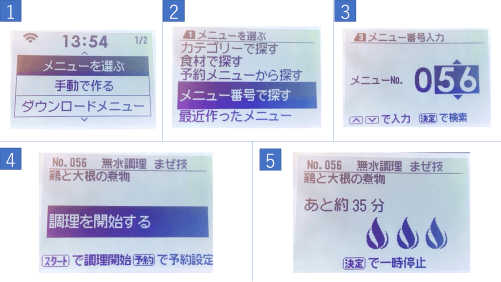 STEP 4:Simmer down for 10 min.
When you hear the finishing chime, open the lid.
This completes the process.
But in addition, I recommend using the "Simmer down" function here to let the water escape a little.
Set the Simmer down time to 10 minutes. Since you can open the lid with the Simmer down function of the Hot-Cook while cooking the food, so you can watch what is going on inside the pot.
Therefore, you can stop cooking halfway through the 10-minute time to finish as you like.
Make manually => Simmer down => Set cooking time to "10 minutes" => Start

Simmer down or not, it's your choice!
If you do not want to check the inside pot, you can extend the cook for 10 minutes longer instead of simmer-down.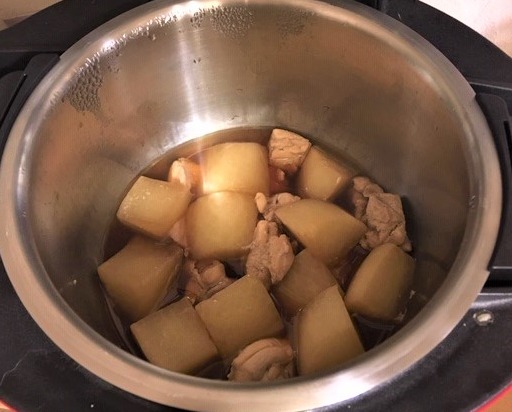 STEP 5:Complete!
Serve on a plate to complete the dish. Garnish with "Ooba Japanese basil" as desired.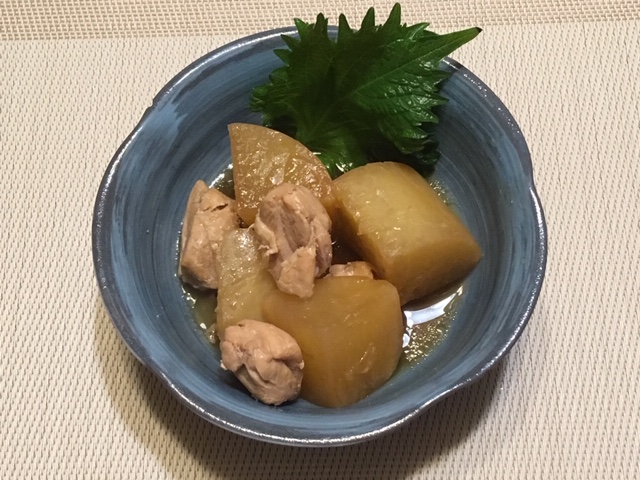 In addition, if you like, you can add "yuzu (citrus fruit)" for even more flavor. It is also delicious with yuzu-kosho (citrus fruit Japanese pepper).
HOTCOOK 1.6L size (for 2-4 people), Latest model with a fluorine-coated inner pot  

リンク
HOTCOOK 2.4L size (for 2-6 people), Latest model with a fluorine-coated inner pot  

リンク