Taste Scoring
★★★★★  Cooking time: 40 minutes, Preparation: 15 minutes + Hot Cook: 25 minutes
---

Ken
If you season the vegetable soup with the amount of salt that Ms. Kazuyo Katsuma recommends, you can make a delicious soup that fills your mouth with the umami from the vegetables without adding consommé. I rarely use consommé for seasoning in our cooking these days at home.
Seasoning with salt, as recommended by Ms. Kazuyo Katsuma, is really delicious.
Recently, when I cook any dishes using consommé cubes, their taste is too strong, and I even feel a little heavy feeling in my stomach the next morning after eating it.
Katsuma-san's method uses salt about 0.6% of the weight of the ingredients used in the dish.
The power of "salt" is really amazing.
It draws out the umami from the vegetables and makes a delicious soup.
We had enough soup even for four people. Since we had a lot of soup, we had a mug of soup for breakfast the next day and enjoyed it with buttered toast!
It is a healthy soup full of vegetables which is also gentle to your stomach even if you eat it in the morning.
WHAT IS HOT COOK?
Hot Cook is Japanese popular cookware, waterless automatic cooking pot series, made by SHARP. Just put the ingredients in the pot and press the switch to automatically prepare a variety of dishes.
HOT COOK 1.6L size (for 2-4 people), Latest model with a fluorine-coated inner pot  

リンク
This article introduces recipes using the Hot Cook, which has become an indispensable part of our home.
Hot Cook Recipe [Vegetable Soup] One Point Advice
If you cut all the vegetables except tomatoes into 1cm cubes, the texture of the soup will be very good and it will taste even better.
Hot Cook Recipe [Vegetable Soup] Ingredients: 4 people
Tomato, cut into chunks: 1 piece (about 150-200g)
Celery, cut into 1cm cubes: 1/3 stalk (50g)
Onion, cut into 1cm cubes: 1/2 piece (100g)
Potato, cut into 1cm cubes: 1 small potato (100g)
Carrot, cut into 1cm cubes: 1 piece (100g)
Bacon, cut into 1cm pieces: 2 strips
Bay leaf: 1 leaf
Pepper: a little
Water: 400ml
Salt: 6g, about 6% of the weight of (ingredients + water)
Hot Cook Recipe [Vegetable Soup] How to make
STEP 1:Prepare ingredients
Cut the tomatoes into chunks.
Cut the celery, onion, potato, and carrot into 1 cm cubes.
Cut the bacon into 1 cm pieces.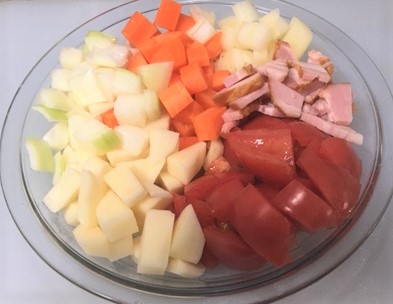 STEP 2:Put all ingredients in the Hot Cook inner pot
Place all ingredients, seasonings, and water in a Hot Cook pot.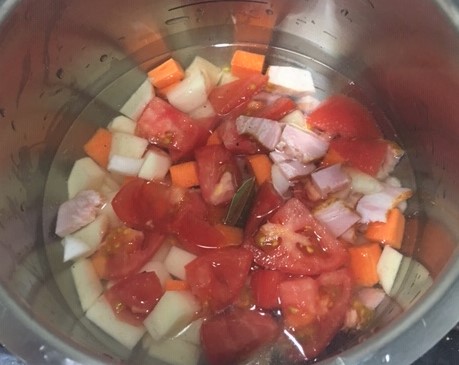 STEP 3:Press the cook menu button
Select a menu => Search by category => Soup => Vegetable Soup => Start cooking => Start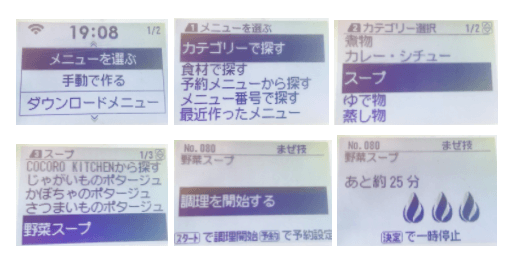 STEP 4:Complete!
When you hear the finishing chime, open the lid, mix it up, and place it in a bowl to serve.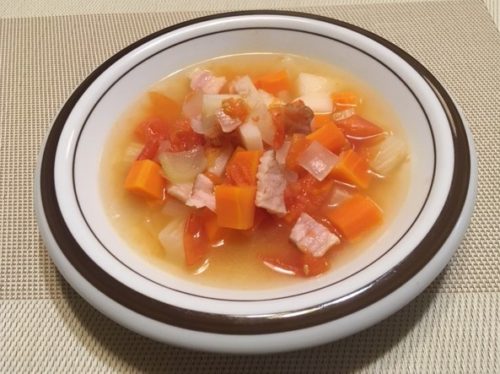 We used to use regular salt purchased from the supermarket for cooking in our house.
Ordinary salt is tasty enough, but the salt recommended by Ms. Kazuyo Katsuma, called "Wajama no Umi Shio (Wajima sea salt)," has a different flavor.
It is sold on Amazon.com, but it is a bit expensive.
However, after much deliberation, we decided to buy the "Wajama sea salt." It is a delicious salt with a mild and slightly sweet taste. Therefore, it was an excellent decision to buy it!
リンク
HOTCOOK 1.6L size (for 2-4 people), Latest model with a fluorine-coated inner pot  

リンク
HOTCOOK 2.4L size (for 2-6 people), Latest model with a fluorine-coated inner pot  

リンク