Taste Scoring
★★★★★  Cooking time: 60 minutes, Preparation: 20 minutes + Hot Cook: 40 minutes
---

Ken
I have learned that Hamburg Steaks taste better when they are simmered! I was afraid that stewing would make the meat hard, but the Hot Cook automatically simmers the meat on low heat, so the meat is tender, and the sauce is excellent! You can easily enjoy the restaurant-like taste at home.
I used the leftover demiglace sauce that I made in the Hot Cook and froze and cooked the sauce with the hamburg steak for 40 minutes.
I was amazed at how good it tasted!
I cooked the Stewed Hamburg Steak in two ways: one with the surface lightly cooked in a frying pan before simmering in the Hot Cook, and the other is without cooking in the pan.
As a result, both Hamburg Steaks were delicious, so I recommend cooking half of the hamburg steak in a frying pan and putting it in the inner pot, putting the other half in the inner pot without cooking, and simmering it together.
This is a candidate for the next Top 10 ranking of delicious recipes made with our Hot Cook.
WHAT IS HOT COOK?
Hot Cook is Japanese popular cookware, waterless automatic cooking pot series, made by SHARP. Just put the ingredients in the pot and press the switch to automatically prepare a variety of dishes.
HOT COOK 1.6L size (for 2-4 people), Latest model with a fluorine-coated inner pot  

リンク
This article introduces recipes using the Hot Cook, which has become an indispensable part of our home.
Hot Cook Recipe [Stewed Hamburg Steak] One Point Advice
If you brown the hamburg steak on both sides in a pan before putting it in the Hot Cook inner pot, it will lock in the Meat flavor inside.
You can also put the Hamburg Steak in the Hot Cook inner pot without browning it, and the umami flavor will seep into the sauce, making it even more delicious. Of course, the Meat will also be tender and delicious.
Hot Cook Recipe [Stewed Hamburg Steak] Ingredients: 2 to 4 people
– Hamburg Steak
Ground beef: about 300g (I used 50% beef and 50% pork)
Onion, finely chopped: 1/2 piece (100g)
Bread crumbs: about 1/2 cup (You can use regular bread crumbs)
Milk: 1 tablespoon (You don't need to add milk if you do not have)
Egg: 1 piece
Pepper: a little
Salt: 2g
Olive oil: 1 tablespoon
– Stewed sauce
Demiglace sauce: about 300g (1 can of a canned demiglace sauce)
Carrot, cut into pieces: 1 piece
Red wine: 100ml
Bay leaf: 1 leaf
Salt: 4g
Hot Cook Recipe [Stewed Hamburg Steak] How to make
STEP 1:Prepare ingredients
Make the ground meat in a food processor. If you are using commercially available ground meat, use it as is.

Finely chop the onions.
Put the ground meat, onion, breadcrumbs, milk, egg, pepper, and salt into a bowl and mix well with your hands.
Make a hamburg steak of your desired size.
Cut up the carrots.
Add olive oil to a frying pan and lightly brown the hamburg steak on both sides.
STEP 2:Put all ingredients in the Hot Cook inner pot
First, add the demiglace sauce.
Next, add the hamburg steak and fill in the gaps between the carrots and meat.
Finally, add the red wine, bay leaf, and salt.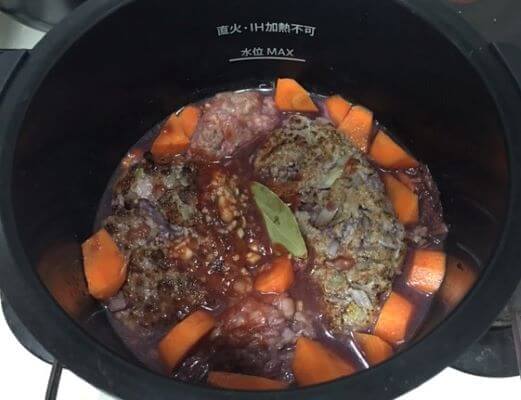 STEP 3:Press the cook menu button
Make manually => Make stew => Do not Mix => Set cooking time to "40 minutes" => Start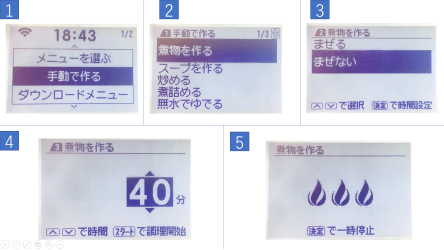 STEP 4:Complete!
When you hear the finishing chime, open the lid, and place it on a plate to serve.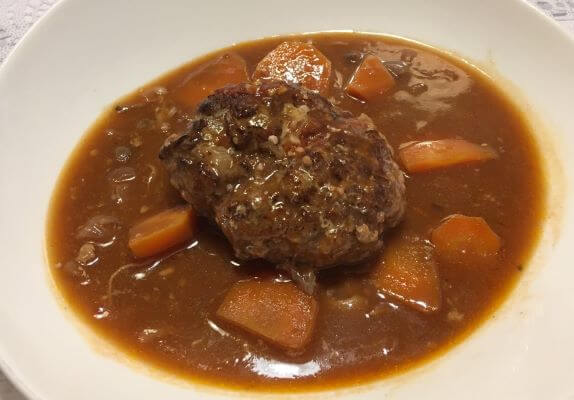 The demiglace sauce made with the Hot Cook is delicious and very convenient.
It can be frozen, so you can divide it into three equal portions and enjoy three different dishes.
This time, I made a Beef Stew, an Omelet, and a Stewed Hamburg Steak.
They were all very tasty!
Click here to check the Demiglace Sauce recipe.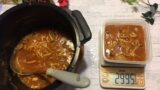 Hot Cook Recipe [How to Make Homemade Demiglace Style Sauce] You can make 3 cans at one time!
If you use a regular saucepan to make Demiglace sauce, it may burn while you are not paying attention. However, with the Hot Cook, you can easily and quickly ma...
Click here to check the Beef Stew recipe.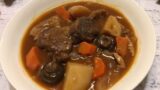 Hot Cook Recipe [How to Make Beef Stew] A luxurious dish that will warm your body!
This is a delicious beef stew that makes full use of the umami flavor of the ingredients and is superior to anything you can find in a restaurant. I cooked this...
Click here to check the Omelet recipe.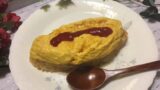 Hot Cook Recipe [How to Make Omelet Rice Sauteed with Demiglace Sauce] Upgrade the taste of the omelet!
I cooked the filling of an omelet, demiglace rice, using the demiglace sauce that I made with Hot Cook and froze beforehand. It upgrades the taste of the finish...
HOTCOOK 1.6L size (for 2-4 people), Latest model with a fluorine-coated inner pot  

リンク
HOTCOOK 2.4L size (for 2-6 people), Latest model with a fluorine-coated inner pot  

リンク