Taste Scoring
★★★★★  Cooking time: 30 minutes, Preparation: 5 minutes + Hot Cook: 20 minutes
---

Ken
If you use a regular saucepan to make Demiglace sauce, it may burn while you are not paying attention. However, with the Hot Cook, you can easily and quickly make a delicious Demiglace sauce. If you divide it into small portions and freeze it in storage containers, you can use it for various dishes such as Beef Stew, Omelets, and Stewed Hamburg Steak!
The finished amount is about 900 grams.
A can of Demiglace sauce sold in supermarkets contains about 300 grams per can, but I could make a volume equivalent of three cans in one Hot Cook.
You can use any mushrooms you like.
This time I used one package of shimeji mushrooms and one package of enoki mushrooms.
WHAT IS HOT COOK?
Hot Cook is Japanese popular cookware, waterless automatic cooking pot series, made by SHARP. Just put the ingredients in the pot and press the switch to automatically prepare a variety of dishes.
HOT COOK 1.6L size (for 2-4 people), Latest model with a fluorine-coated inner pot  

リンク
This article introduces recipes using the Hot Cook, which has become an indispensable part of our home.
Hot Cook Recipe [Demiglace style Sauce] One Point Advice
Wine is not used with this recipe. You can use the finished Demiglace sauce to make other dishes (such as beef stew) and add red wine when simmering.
Hot Cook Recipe [Demiglace Style Sauce] Ingredients: about 900 grams
– Ingredients
Onion, slice into thin strips: 1 piece
Mushrooms of your choice, cut into the bite-sized piece: 1 or 2 packs
Flour: 4 tablespoons
– Seasonings
Worcestershire sauce: 5 to 6 tablespoons
Tomato ketchup: 5 to 6 tablespoons
Sugar: 1 tablespoon
Butter: 20g
– Water: 400ml
Hot Cook Recipe [Demiglace Style Sauce] How to make
STEP 1:Prepare ingredients
Slice the onions into thin strips.
Cut the mushrooms of your choice into bite-sized pieces.
Put the onions and mushrooms in a storage bag, add flour and dredge them with flour well.
STEP 2:Put all ingredients in the Hot Cook inner pot
First, put the floured onions and mushrooms into the pot.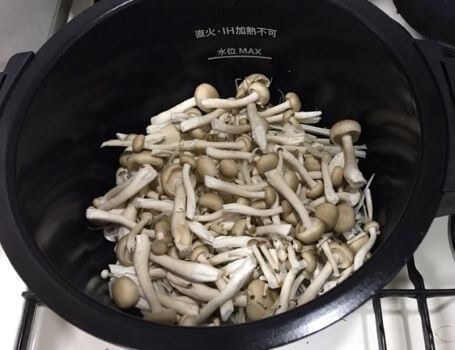 Add all the seasonings.
Finally, add water.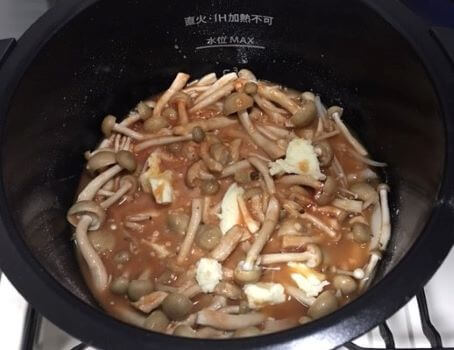 STEP 3:Press the cook menu button
Select a menu => Search by category => Simmered food => Tsukudani/Sauce => Demiglace style sauce => Start cooking => Start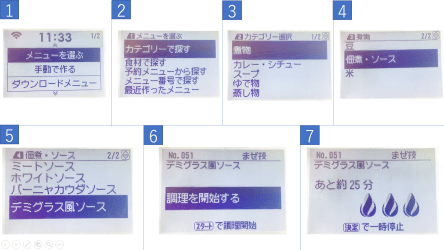 STEP 4:Complete!
When you hear the finishing chime, open the lid and transfer the sauce to a storage container.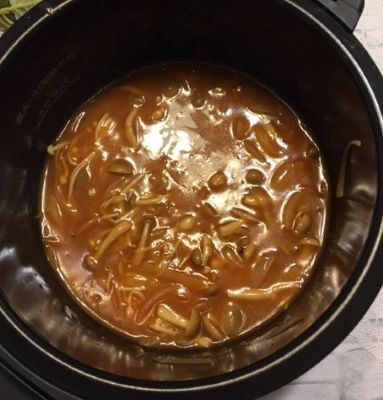 Using the Demiglace sauce that I made for the first time with Hot Cook, I made Beef Stew this time.
It turned out very tasty!
Click here to see how to make Beef Stew using homemade Demiglace sauce.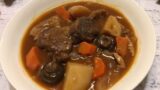 Hot Cook Recipe [How to Make Beef Stew] A luxurious dish that will warm your body!
This is a delicious beef stew that makes full use of the umami flavor of the ingredients and is superior to anything you can find in a restaurant. I cooked this...
The Stewed Hamburger Steak is also excellent! Please try it!
https://indoor-enjoylife.com/en/hotcook-stewinghamburgen/
HOTCOOK 1.6L size (for 2-4 people), Latest model with a fluorine-coated inner pot  

リンク
HOTCOOK 2.4L size (for 2-6 people), Latest model with a fluorine-coated inner pot  

リンク