Taste Scoring
★★★★★  Cooking time: 40 minutes, Preparation: 10 minutes + Hot Cook: 30 minutes
---

Ken
With Hot Cook, you can easily make beans and vegetables-filled, Wendy's-style chili beans in just 40 minutes. This dish is nutritious, spicy, and also great for the diet. Now, I purchase canned kidney beans in bulk online so that I can make them any time!
It's been a few years since our favorite hamburger shop in my neighborhood, Wendy's, was closed.
I used to go to Wendy's on weekends and often had the mushroom melt burger and chili beans.
Depending on the shop staff, the chili beans sometimes came with less filling or more soup, so I would ask for a little more filling when I ordered at the counter without hesitation.
I haven't eaten my favorite chili beans for a long time now, but I could easily recreate Wendy's style chili beans with the Hot Cook!
Chili powder and cumin powder, which are the key ingredients for the flavor, are nowadays readily available in the spice section of any supermarket, which is a big help.
As for canned kidney beans, it was a little difficult to find a supermarket that sells them at all times.
Now, I buy a can of kidney beans in bulk online.
Buying in bulk seems to be a lot, but it is not a problem because they are delicious, and I make chili beans several times a month.
WHAT IS HOT COOK?
Hot Cook is Japanese popular cookware, waterless automatic cooking pot series, made by SHARP. Just put the ingredients in the pot and press the switch to automatically prepare a variety of dishes.
HOT COOK 1.6L size (for 2-4 people), Latest model with a fluorine-coated inner pot  

リンク
This article introduces recipes using the Hot Cook, which has become an indispensable part of our home.
Hot Cook Recipe [Chili Beans] One Point Advice
Tear off the minced pork into small pieces by hand and placing it in the pot is a key to improving the texture of the final dish.
Divide the minced pork into two portions and add them to the pot. Put the first half on top of the vegetables and the other half on top of the canned tomatoes.
Add salt to taste, but no consommé.
Hot Cook Recipe [Chili Beans] Ingredients: 4 people
Canned boiled chili beans: 1 can (about 400g)
Canned tomatoes: 1 can (about 400g) *If you use whole tomatoes, crush them with a fork.
Minced pork: approx. 150g (you can also use ground pork)
Onion: 1 large onion (about 300g)
Green pepper: 4 pieces
Garlic, minced: teaspoon (you can also use jarred minced garlic)
Chili powder: 2 tablespoons
Cumin powder: 1 tablespoon
Red wine: 50 ml
Bay leaf: 1 leaf
Salt: about 8g
Hot Cook Recipe [Chili Beans] How to make
STEP 1:Prepare ingredients
Open the canned kidney beans in a colander and rinse with water.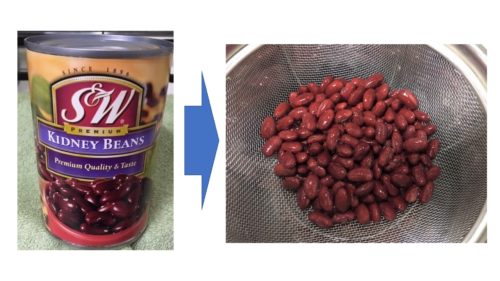 Prepare the pork mince. We use a blender to mince the pork chunks.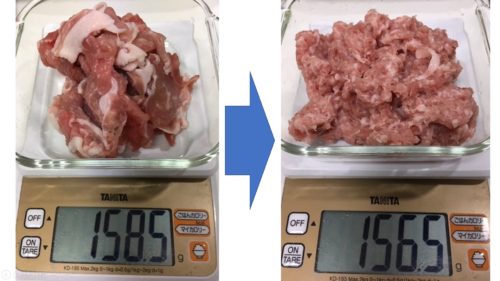 Finely chop the onions.
Cut the green pepper into 1cm cubes.
Prepare the other seasonings.
STEP 2:Put all ingredients in the Hot Cook inner pot
First, put the onion, green pepper, and garlic into the pot.
Next, tear off half of the minced pork into small pieces by hand.
Add all the rinsed kidney beans.最初に、玉ねぎ、ピーマン、にんにくを鍋にいれます。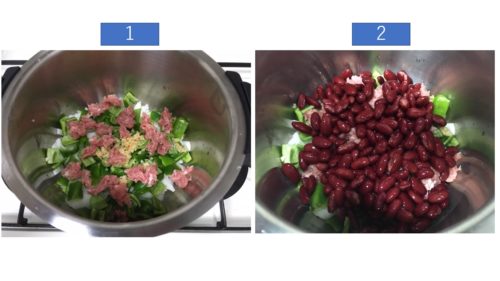 Add all the cans of canned tomatoes.
Tear off the rest of the minced pork into small pieces by hand.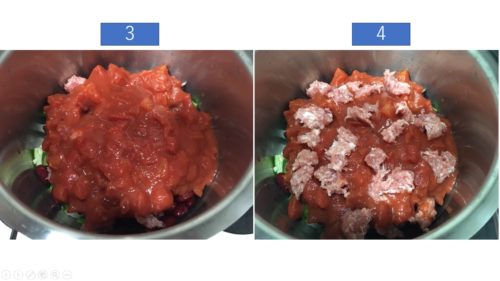 Now, lift the Hot Cook inner pot with both hands and gently shake it from side to side to spread the canned tomatoes.
Next, add the chili powder, cumin powder, and bay leaves.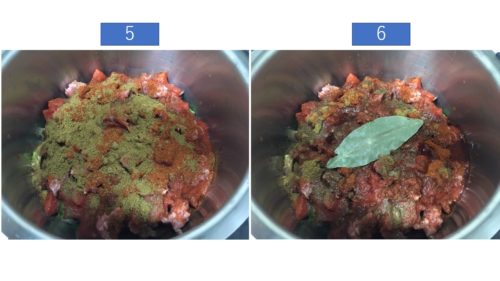 Pour the red wine around the top. At this point, it is a good idea to put the red wine in an emptied canned tomato before adding it to the pot.
Finally, add about 8g of salt.
STEP 3:Press the cook menu button
Select a menu => Search by category => Stewed => Beans => Chili con carn => Start cooking => Start
STEP 4:Complete!
When you hear the finishing chime, open the lid, mix it up, and place it in a bowl to serve.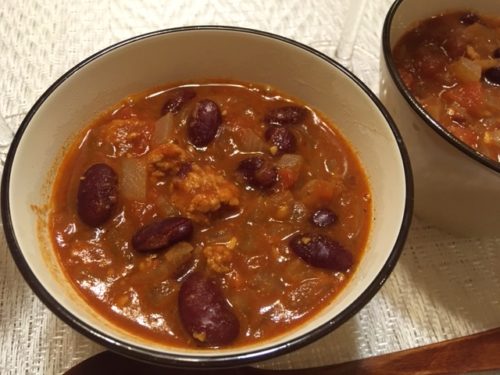 The finished chili beans can be served with a spoon in a slightly deep soup cup or mug in the style of Wendy's.
If you like, you can add Tabasco to make it spicier.
It goes well with toast or other bread!
And, of course, it goes great with red wine or a cold beer!
HOTCOOK 1.6L size (for 2-4 people), Latest model with a fluorine-coated inner pot  

リンク
HOTCOOK 2.4L size (for 2-6 people), Latest model with a fluorine-coated inner pot  

リンク