Taste Scoring
★★★★★  Cooking time: 33 minutes, Preparation: 30 minutes + Hot Cook: 3 minutes
---

Ken
The shrimp will be plump and juicy. The sweet and spicy shrimp chili sauce is also excellent. It is great that one of the most popular Chinese dishes, shrimp chili, can be made so easily and automatically. Since it can be made in a short time, it is recommended to cook it when you want to make more than one dish in Hot Cook.
Cooking with a fluorine-coated inner pot makes a huge difference when stir-frying! Yesterday, I made shrimp chili, and it turned out more perfect than I could have imagined.
Even if you are using a stainless steel pan with the old model of Hot Cook, you can buy a fluorine-coated pan separately.
WHAT IS HOT COOK?
Hot Cook is Japanese popular cookware, waterless automatic cooking pot series, made by SHARP. Just put the ingredients in the pot and press the switch to automatically prepare a variety of dishes.
HOT COOK 1.6L size (for 2-4 people), Latest model with a fluorine-coated inner pot  

リンク
This article introduces recipes using the Hot Cook, which has become an indispensable part of our home.
Hot Cook Recipe [Shrimp Chili] One Point Advice
The best way to make it tasty is to prepare and season the shrimp well.
If you have time, before seasoning the shrimp, make an incision on the back of the shrimp with a knife and spread them out with both hands. This will allow the seasoning to soak into the shrimp and give them a more plump texture.
The spiciness can be adjusted by the amount of hot pepper paste. Even 1 teaspoon will be spicy enough.
Hot Cook Recipe [Shrimp Chili] Ingredients: 4 people
Seasoning of shrimp
Shrimp: 10-15 *You can also use large frozen shrimp.
Sake: 1 tablespoon
Ginger tube: a small amount on each shrimp
Potato starch: 2 tablespoons
Shrimp chili sauce
Tomato ketchup: 3 tablespoons
Sake: 1 tablespoon
Sesame oil: 2 teaspoons
Sugar: 2 teaspoons
Chicken soup stock: 1 teaspoon
Soy sauce: 1 teaspoon
Water: 4 tablespoons
Vegetables and seasonings
Leek, finely chopped: 1/2 piece
Garlic, finely chopped: A clove of garlic
Ginger, finely chopped: 1 tablespoon (can use a tube type)
Toubanjang (Chinese chili bean sauce): 1 teaspoon
Sesame oil: 1 teaspoon
Lettuce: as desired (optional for serving)
Hot Cook Recipe [Shrimp Chili] How to make
STEP 1:Prepare ingredients
Remove all the shells from the shrimp. Remove the tails as well.
Remove the back of the shrimp with a bamboo skewer or the end of a fork.
Remove the water from the shrimp with a paper towel and sprinkle 1 tablespoon of sake on the surface (one side is fine).
Spread a tube of ginger on each shrimp (one side is fine).
Cover with plastic wrap and let it sit in the refrigerator for 30 minutes.
Sprinkle both sides of the shrimp with potato starch.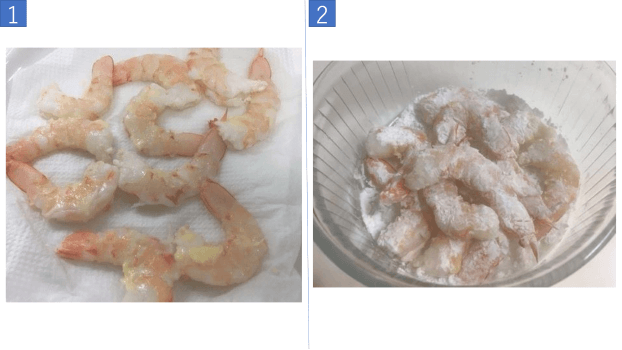 In a bowl, combine all the ingredients for the shrimp chili sauce and mix well.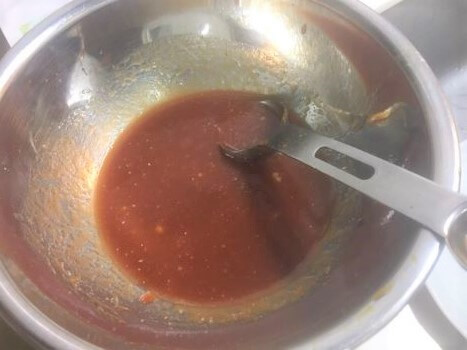 Cut green onions, garlic, ginger, and prepare hot pepper paste.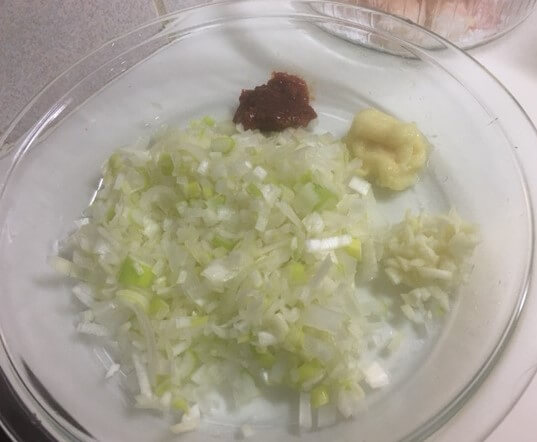 STEP 2:Put all ingredients in the Hot Cook inner pot
First, add 1 teaspoon of sesame oil to the pot.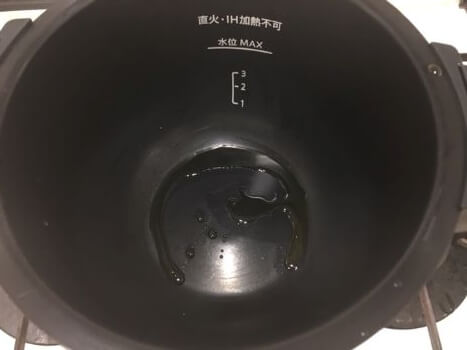 Next, add the green onion, garlic, ginger, and hot pepper paste.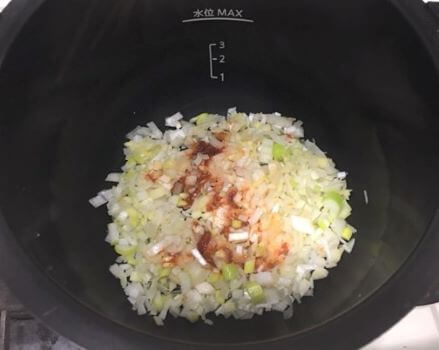 Finally, add the seasoned and starchy shrimp and pour the sauce over the top.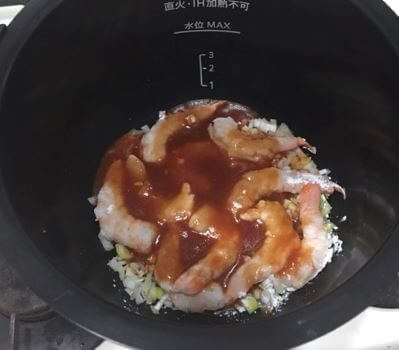 STEP 3:Press the cook menu button
Make manually => Stir-fry => Set cooking time to "3 minutes" => Start

STEP 4:Complete!
When you hear the finishing chime, open the lid, mix it up, and place it on a plate.
Serve on a bed of lettuce with plenty of veggies to enjoy a delicious meal!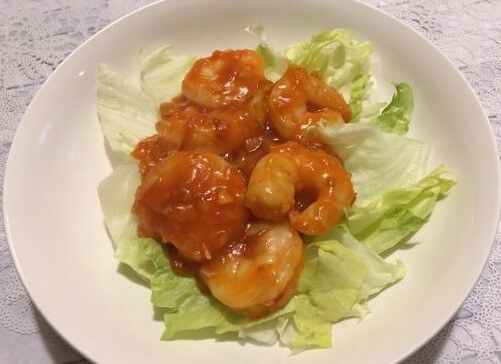 Right after making the shrimp chili, I also made marabou tofu and served it together.
Then, we enjoyed a delicious Chinese plate!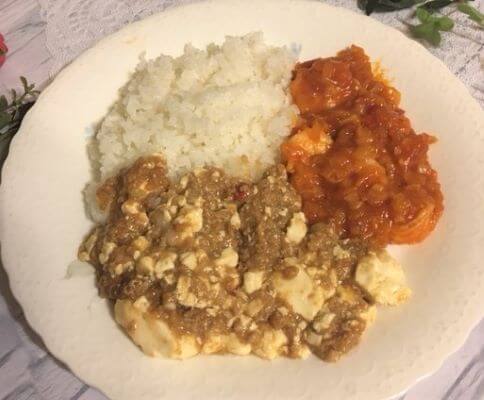 HOTCOOK 1.6L size (for 2-4 people), Latest model with a fluorine-coated inner pot  

リンク
HOTCOOK 2.4L size (for 2-6 people), Latest model with a fluorine-coated inner pot  

リンク
 Useful notes

Ken
Good news for those who use the old model of Hot Cook with stainless steel inner pot! The long-awaited hot cook fluorine-coated inner pot is now on sale as an option!
I bought it online!
Now you can cook without worrying about cooking menus that stick to the bottom of the pot. Check it out if you are interested!
The fluorine-coated inner pot has FB at the end of the model number. Please be careful when purchasing. F refers to "fluorine."
Sharp TJ-KN1FB Inner Pot for Hot Cooks, 0.4 gal (1.6 L) Type, Fluorine Coating

リンク
Sharp TJ-KN2FB Inner Pot for Hot Cooks, 0.6 gal (2.4 L) Type, Fluorine Coating

リンク
Sharp TJ-KN05FB Inner Pot for Hot Cooks, (1.0 L) Type, Fluorine Coating

リンク