Taste Scoring
★★★★★ Cooking time: 25 minutes; Preparation 5 minutes + Hot Cook 20 minutes
---

Ken
I bought "Hot Cook," an automatic cooker, about a year ago, and the first dish I made was tomato risotto. You can easily cook and enjoy authentic risotto if you use Hot Cook, so I've made it many times since then.
After several tries, I have come up with the most delicious recipe, so I would like to share with you the updated recipe by comparing the old and new ingredients, seasonings, and photos!
I have often made tomato risotto so far, but the taste varies depending on the ingredients, seasonings, and amount used.
I will share with you a simple and authentic recipe while limiting the ingredients to be used to the minimum.
WHAT IS HOT COOK?
Hot Cook is Japanese popular cookware, waterless automatic cooking pot series, made by SHARP. Just put the ingredients in the pot and press the switch to automatically prepare a variety of dishes.
HOT COOK 1.6L size (for 2-4 people), Latest model with a fluorine-coated inner pot  

リンク

This article introduces recipes using the Hot Cook, which has become an indispensable part of our home.
[Hot Cook Recipe: Tomato Risotto (revised)] One Point Advice
Difference between wash-free rice and ordinary white rice
After several trials, I think making tomato risotto with "wash-free rice" tastes best.
The amount of wash-free rice used for 4 people is 1 go (about 150g = 180 mL).
I tried various types of wash-free rice, but "Koshihikari" rice from Akita Prefecture" was the most delicious one. Using the rice makes risotto to be optimal hardness and soft yet slightly chewy consistency.
Difference of Boiled Tomatoes can, Cut and Whole
Also, as I tried many times, I noticed that a "canned tomato," in which the tomatoes were cut and canned in advance, made it more delicious. It is best to use 1 can of a canned tomato, which is about 400g for 1 go (180 mL) of rice.
When you eat the dish, the tomatoes do not stand out too much and are evenly mixed throughout the risotto with just the right amount of mild taste.
In the official recipe of Hot Cook, 1/2 of a canned tomato is used, but by using the whole 1 can, you can enjoy all the juice from the tomatoes, so the taste of the finished dish is definitely better.
Canned Tomatoes are often used in other dishes for Hot Cook, so I purchase them in bulk and always stock them up at home.
リンク
Amount of water to put in
As a result of verification, I learned that the best amount of water to put in the risotto is "100cc".
Please note that the 100cc of water is based on the premise that 1 go of unwashed rice (150g) and 1 can of canned tomato (400g) are used.
If you use only 1/2 canned tomato, please add 300cc of water.
Difference between using bacon and sausage
As I tried several times, using bacon thinly sliced about 1 to 2 cm makes it more delicious than sausage.
The best amount of bacon is about 60g for 1 go (150g) of wash-free rice. Basically, risotto is a dish to enjoy the texture of rice, and if you use 60g of thin slices of bacon, it will not interfere with the taste of rice.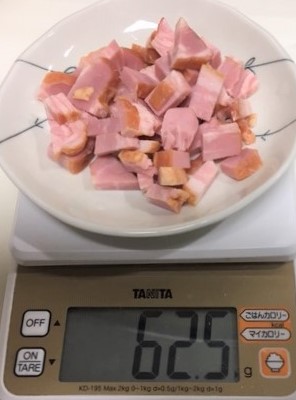 You can taste the delicious umami (flavor) from bacon.
The difference in how to cut onions and the amount used
The best way to cut onions is by chopping, and the best amount is 50g.
Chopped onions give you a slight onion flavor, are more delicious by giving an accent when you put the risotto in your mouth.
The best amount is 50g because if you add too many onions, it will interfere with the taste of tomatoes. Please note that 50g of onions is about 1/4 of a small onion.
Whether to add mushrooms or not?
The risotto is delicious without adding mushrooms. However, if you like mushrooms and if you want to put them in the risotto, I recommend using Shimeji mushrooms.
Whether to put consomme or not?
It is better not to add consomme because you can enjoy the umami flavor of natural vegetables (tomato+onion) better without it.
The recommended amount of salt is 6% of the ingredients.
The basis of seasoning is "salt only."
I used "Noto Wajima's Sea Salt," recommended by Ms. Kazuyo Katsuma, an economic commentator and a popular figure among Hot Cook users.
The salt is made from 100% seawater of Wajima in Ishikawa Prefecture. I bought it online!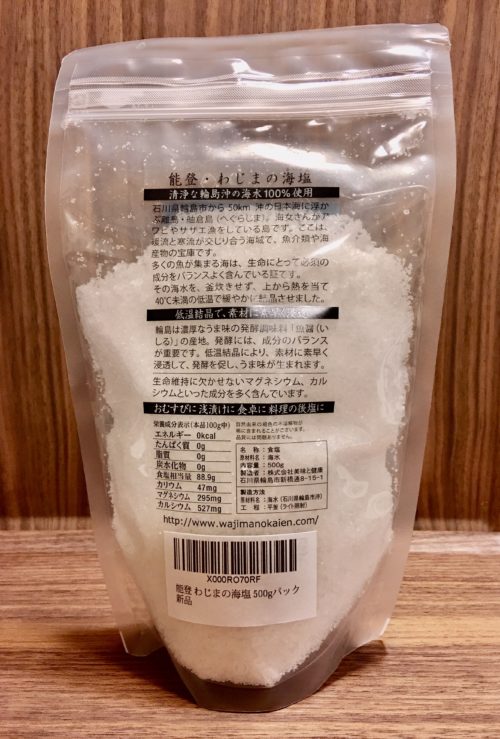 The price of the salt is a little expensive than other commercially available salts, but honestly speaking, I think it is worth the purchase.
I think you can feel the power of only using salt as a seasoning for a dish that uses few ingredients, such as tomato risotto.
リンク
The amount of salt used for tomato risotto is about 4.5g.
The amount of salt used for Ms. Kazuyo Katsuma's cooking is 0.6% of the weight of the ingredients and water.
Therefore, in this case, 150g of wash-free rice, 400g of canned tomato, 50g of onions, 60g of sliced bacon, and 100cc water make it a total weight of about 760g.
The salt used is 0.6% of 760g, which is 760X0.006 = 4.5g.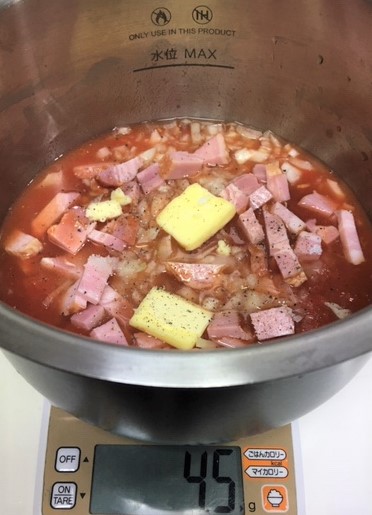 Garlic
If you want to use easy-to-use garlic, you can make a delicious risotto using Momoya's bottled "Momoya's Kizami (chopped) Garlic."
Fresh garlic takes a little time to pare its skin and chop with a kitchen knife, but fresh garlic flavor is actually much better. But I think you can use a bottled, tube-type, or fresh garlic according to your preference and mood at that time.
The difference between salted butter and unsalted butter
I couldn't tell the difference in taste between salted butter and unsalted butter.
Risotto doesn't use as much butter as making French sauce, so I think regular salted butter is fine.
Pepper
You can add a little pepper if you like, and I think any type of pepper is fine.
The difference between melting cheese and parmesan grated cheese
I thought it was delicious to put two pieces of melting cheese in the inner pot after opening the lid of the Hot Cook immediately after the risotto was completed. Then, mix them lightly, melt them with residual heat, and serve them in a bowl.
With Parmesan cheese, the taste of grated cheese was a little too strong, and I felt that it would interfere with the umami flavor of the ingredients.
[Hot Cook Recipe: Tomato Risotto (revised)] Ingredients for 4 people
Wash-free rice: 1 go (about 150g = 180ml)
Onion, chopped: 50g
Canned tomato: 1 can
Bacon, sliced to 1-2cm: about 60g
Melting cheese: 2 pieces *If you like
◆Seasoning
Garlic: 1 teaspoon *"Momoya's Kizami (chopped) Garlic" recommended
Water: 100ml *When using 1/2 can, increase water to 300ml
Pepper: as you like
Butter: 15g
Salt: 4.5g *"Noto Wajima's Sea Salt" recommended
[Hot Cook Recipe: Tomato Risotto (revised)] How to Make
STEP 1:Prepare Ingredients
Chop the onion.
Cut the bacon into thin slices of 1 to 2 cm.
STEP 2:Put all ingredients in the Hot Cook Inner Pot
First, put 150g of wash-free rice, onions, and bacon in the pot.
Next, add a can of tomatoes, garlic, butter, and a little pepper.
Finally, add 100cc of water and 4.5g of salt.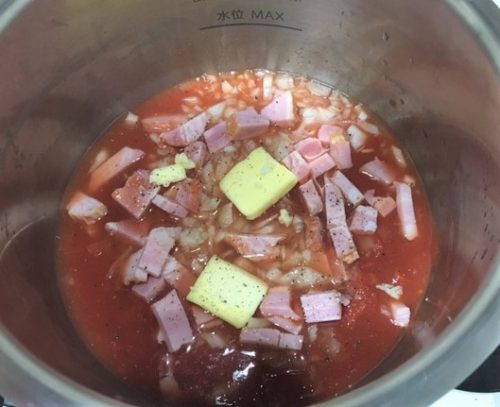 STEP 3:Press the cook button ♪
Select a menu => Search by category => Boiled food => Rice => Tomato risotto => Start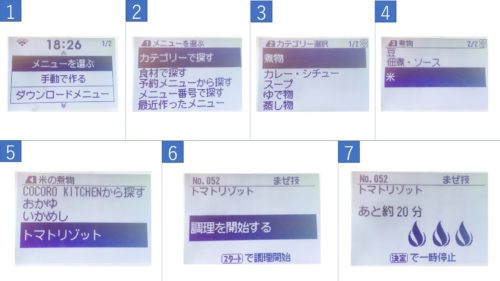 STEP 4:Complete!
Even if the finished chime sounds, do not open the lid immediately and let it steam for 10 minutes.
After steaming, open the lid, mix well, and serve in a bowl to complete.
*Add two pieces of melting cheese to your liking and mix gently.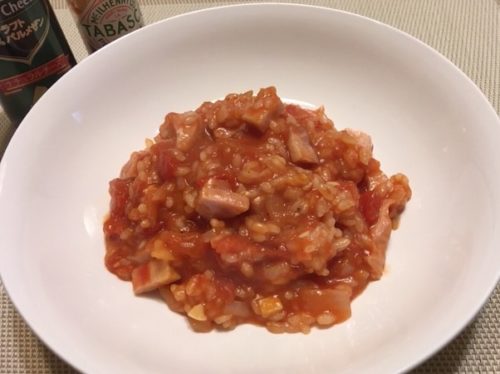 The tomato risotto is as delicious as you would eat at an authentic Italian restaurant!
HOTCOOK 1.6L size (for 2-4 people), Latest model with a fluorine-coated inner pot  

リンク
HOTCOOK 2.4L size (for 2-6 people), Latest model with a fluorine-coated inner pot  

リンク
 Useful notes

Ken
Good news for those who use the old model of Hot Cook! The long-awaited hot cook fluorine-coated inner pot is now on sale as an option!
I bought it online!
Now you can cook without worrying about cooking menus that stick to the bottom of the pot. Check it out if you are interested!
The fluorine-coated inner pot has FB at the end of the model number. Please be careful when purchasing. F refers to "fluorine."
Sharp TJ-KN1FB Inner Pot for Hot Cooks, 0.4 gal (1.6 L) Type, Fluorine Coating

リンク
Sharp TJ-KN2FB Inner Pot for Hot Cooks, 0.6 gal (2.4 L) Type, Fluorine Coating

リンク
Sharp TJ-KN05FB Inner Pot for Hot Cooks, (1.0 L) Type, Fluorine Coating

リンク