Taste Scoring
★★★★★  Cooking time: 22 minutes, Preparation: 10 minutes + Hot Cook: 12 minutes
---

ケン
It is easy and tasty to make Green Pepper Steak with the Hot Cook of Sharp. Pepper Steak is a staple of Chinese set meals. All you have to do is put the ingredients in the pot, and you're ready to eat in just 10 minutes! It's a great dish to serve with white rice and plenty of meat and vegetables!
About 10 years ago, I used to eat Green Pepper Steak set meal every day at a Chinese restaurant near my office in Monzennakacho, downtown Tokyo.
In addition to the Green Pepper Steak set meal, they also served daily special set meals such as Twice Cooked Pork meat set meal, Shrimp Chili set meal, Ramen noodle, and Gyoza dumpling set meal, etc. Of course, there was also a full menu of Fried rice and other dishes, but I always ordered the Pepper Steak when I entered the restaurant.
I suspected that there was some kind of "special powder" in the food that made me want to eat it again and again, so much so that I couldn't help but crave it every lunchtime.
The amount of beef was so huge that I wondered if it was profitable. Vegetables used in the plate are green peppers and onions, no bamboo shoots. There were plenty of soft green peppers. The sweetness of the onions is indescribably delicious. I couldn't wait to have another bowl of white rice.
Now, let's see if we can recreate this taste with the Hot Cook! How close can we get?
After a lot of trial and error, I finally developed a supreme recipe for Green Pepper Steak!
WHAT IS HOT COOK?
Hot Cook is Japanese popular cookware, waterless automatic cooking pot series, made by SHARP. Just put the ingredients in the pot and press the switch to automatically prepare a variety of dishes.
HOT COOK 1.6L size (for 2-4 people), Latest model with a fluorine-coated inner pot  

リンク
This article introduces recipes using the Hot Cook, which has become an indispensable part of our home.
Hot Cook Recipe [Green Pepper Steak] One Point Advice
When you put the seasoned beef into the Hot Cook inner pot, it is better to break up and spread it out so that not to clump up together, even if it takes a little more time.
Hot Cook Recipe [Green Pepper Steak] Ingredients: 4 people
Sliced beef, cut into bite-sized pieces: 250g-300g
Green peppers, cut into small pieces: 4-6 pieces
Onion, slice into thin strips: 1/2 piece
Ginger, slice into thin strips: 1 piece
Seasoning 1 (for seasoning the beef)
Salt: a little, as you like
Pepper: a little, as you like
Soy sauce: 1 tablespoon
Sesame oil: 1 tablespoon
Seasoning 2
Oyster sauce: 2 tablespoons
Sake: 1 tablespoon
Garlic: 1 teaspoon
Chicken soup stock: 1 teaspoon
Hot Cook Recipe [Green Pepper Steak] How to make
STEP 1:Prepare Ingredients
Cut the beef into bite-sized pieces and sprinkle with a little salt and pepper.
Sprinkle seasoning 1 (soy sauce, sesame oil, and potato starch) over the beef, toss well with your hands, and set aside for 5 minutes.
Cut the green peppers into small pieces and the onions into thin slices.
STEP 2:Put all ingredients in the Hot Cook inner pot
First, put the peppers and onions into the pot.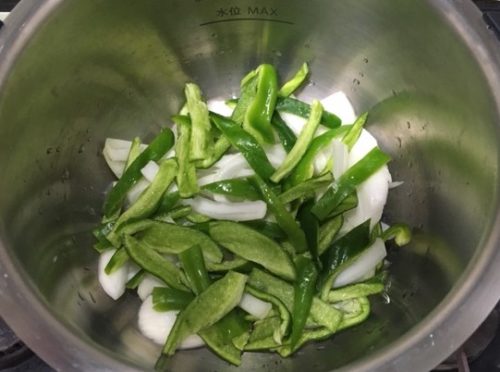 Next, break up the seasoned beef with your hands and spread it into the pot.
Then, add the sliced ginger.
Finally, add all the remaining seasonings 2 (oyster sauce, sake, garlic, and chicken soup stock).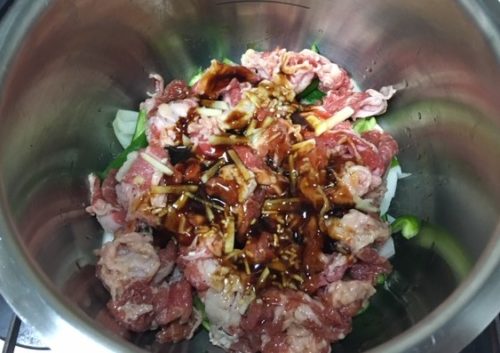 STEP 3:Press the cook menu button
Make manually => Make stew => Mix => Set cooking time to "12 minutes" => Start
手動で作る → 煮物を作る → まぜる  →  調理時間を「12分」に設定 →  ス タート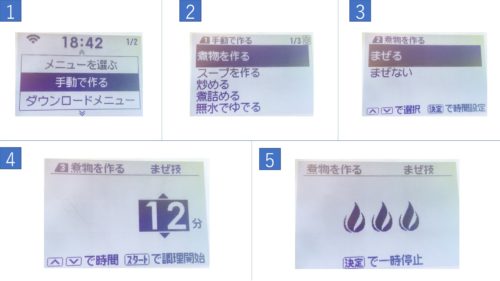 STEP 4:Complete!
When you hear the finish chime, open the lid, mix it up, and place it in a bowl to serve.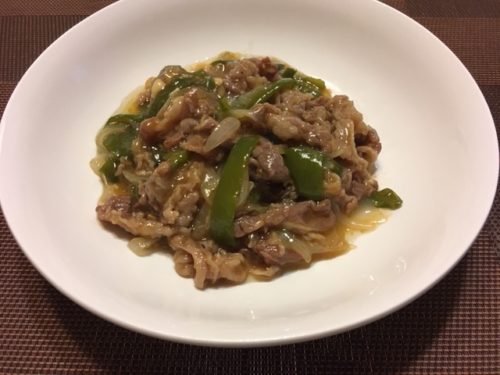 If you set the cooking time to 12 minutes, the peppers and onions will become quite soft.
This softness of the vegetables is similar to the taste of Monzennakacho's Green Pepper Stake set meal, but if you want to keep the crunchiness of the vegetables a little more, you can set the cooking time to 10 minutes.
It goes great with white rice, of course, but it's also great as an accompaniment to beer and wine!
HOTCOOK 1.6L size (for 2-4 people), Latest model with a fluorine-coated inner pot  

リンク
HOTCOOK 2.4L size (for 2-6 people), Latest model with a fluorine-coated inner pot  

リンク
 Useful notes

Ken
Good news for those who use the old model of Hot Cook with stainless steel inner pot! The long-awaited hot cook fluorine-coated inner pot is now on sale as an option!
I bought it online!
Now you can cook without worrying about cooking menus that stick to the bottom of the pot. Check it out if you are interested!
The fluorine-coated inner pot has FB at the end of the model number. Please be careful when purchasing. F refers to "fluorine."
Sharp TJ-KN1FB Inner Pot for Hot Cooks, 0.4 gal (1.6 L) Type, Fluorine Coating

リンク
Sharp TJ-KN2FB Inner Pot for Hot Cooks, 0.6 gal (2.4 L) Type, Fluorine Coating

リンク
Sharp TJ-KN05FB Inner Pot for Hot Cooks, (1.0 L) Type, Fluorine Coating

リンク