Taste Scoring
★★★★★  Cooking time: 60 minutes, Preparation: 15 minutes + Hot Cook: 45 minutes
---

ケン
No store-bought roux is used with this recipe. But the cream stew is delicious with full of flavor and a comforting taste. The potatoes are incredibly delicious, and of course, they do not become mushy while cooking.
This is one of the best hot cook dishes I've ever made, and it definitely ranks one of the top five.
Each ingredient is perfectly seasoned to perfection. Once again, the Hot Cook has surprised me with its ability to make just the right dishes, even though it is automatic and left alone.
The potatoes and carrots have an excellent firmness that melts in your mouth after a while. The onions were tender, and the chicken was juicy and delicious.
It is recommended to cut the potatoes into large pieces. Don't worry if you cut the potatoes too big or too thick. They will be cooked all the way adequately through. The soup is thick, but not too thick that it gets stuck in your throat and is very smooth.
WHAT IS HOT COOK?
Hot Cook is Japanese popular cookware, waterless automatic cooking pot series, made by SHARP. Just put the ingredients in the pot and press the switch to automatically prepare a variety of dishes.
HOT COOK 1.6L size (for 2-4 people), Latest model with a fluorine-coated inner pot  

リンク
This article introduces recipes using the Hot Cook, which has become an indispensable part of our home.
Hot Cook Recipe [Cream Stew] One Point Advice
The key is to use a storage bag to sprinkle the flour evenly over the ingredients. This will make the resulting stew very smooth.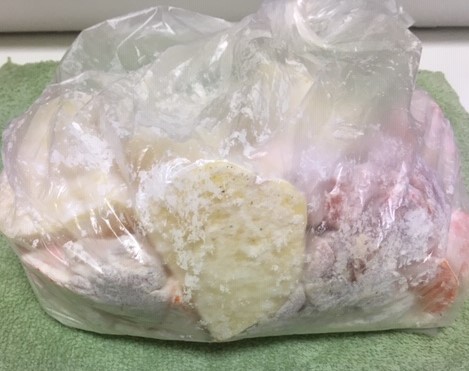 Cut the potatoes into large pieces.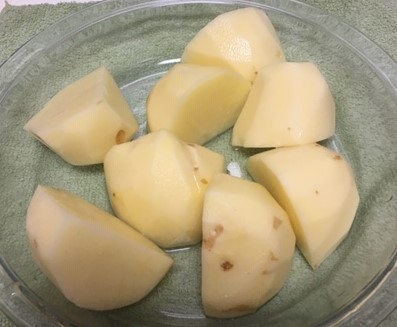 Hot Cook Recipe [Cream Stew] Ingredients: 4 people
Chicken thigh, cut into small bite-sized pieces: 150g
Potatoes, cut into large pieces: 2 pieces
Carrot, cut into small chunks: 1 piece
Salt and pepper: as you like
Flour: 4 tablespoons
Onion, cut into wedges: 1 piece
Butter: 30g
White wine: 2 tablespoons (or 2 tablespoons sake)
Consomme granules: 1 tablespoon
Bay leaf: 1 piece
Water: 200ml
Milk: 200ml
Hot Cook Recipe [Cream Stew] How to make
STEP 1:Prepare ingredients
Cut the chicken and carrots into small bite-sized pieces and the potatoes into large quarters.
Put the chicken, potatoes, and carrots in a plastic bag and season with salt and pepper.
Lightly rub in the plastic bag with your hands to season.
Once seasoned, add the flour into the bag, mix evenly, and let it blend for 5 minutes.
Cut the onions into wedges.
Prepare other seasonings.
STEP 2:Put all ingredients in the Hot Cook inner pot
First put in the "onions", then the seasoned and lightly floured chicken, potatoes, and carrots using a storage bag. Then, add the rest of the seasonings and water except for the milk.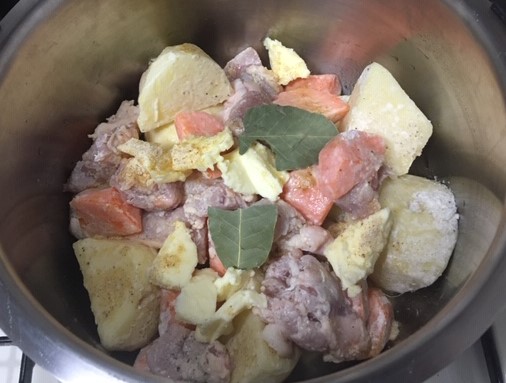 STEP 3:Press the cook menu button
Select a menu => Search by category => Curry, Stew => Cream Stew => Start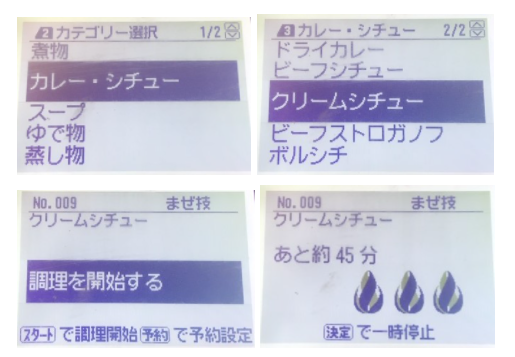 STEP 4:Add milk with 5 minutes remaining
An alarm will sound about 5 minutes before the end of the cooking.
When the alarm sounds, open the lid and pour in the milk.
Close the lid and press the start button again.
STEP 5:Complete!
When you hear the finishing chime, open the lid, and place it in a bowl to serve.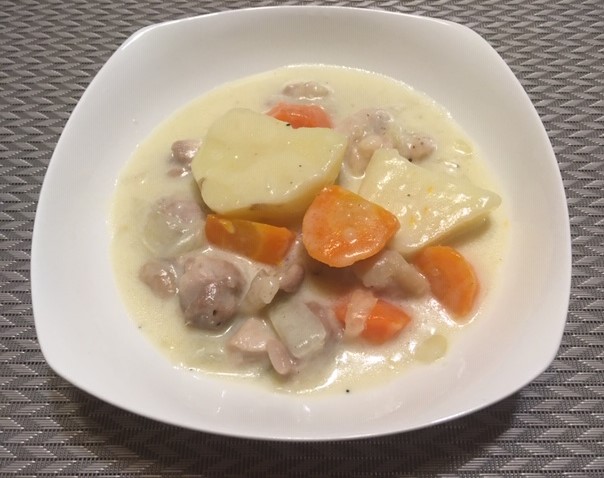 Even though it is a stew, it is a great dish to enjoy with alcohol. Of course, it goes well with white rice and bread.
HOTCOOK 1.6L size (for 2-4 people), Latest model with a fluorine-coated inner pot  

リンク
HOTCOOK 2.4L size (for 2-6 people), Latest model with a fluorine-coated inner pot  

リンク
 Useful notes

Ken
Good news for those who use the old model of Hot Cook with stainless steel inner pot! The long-awaited hot cook fluorine-coated inner pot is now on sale as an option!
I bought it online!
Now you can cook without worrying about cooking menus that stick to the bottom of the pot. Check it out if you are interested!
The fluorine-coated inner pot has FB at the end of the model number. Please be careful when purchasing. F refers to "fluorine."
Sharp TJ-KN1FB Inner Pot for Hot Cooks, 0.4 gal (1.6 L) Type, Fluorine Coating

リンク
Sharp TJ-KN2FB Inner Pot for Hot Cooks, 0.6 gal (2.4 L) Type, Fluorine Coating

リンク
Sharp TJ-KN05FB Inner Pot for Hot Cooks, (1.0 L) Type, Fluorine Coating

リンク