Taste Scoring
★★★☆☆  Cooking time: 45 minutes, Preparation: 15 minutes + Hot Cook: 30 minutes
---
Some families use pre-made processed meat sauce, while others make it by themselves. In my family, we always make it by hand because "processed food doesn't taste like our home…".
However, meat sauce used to be a dish that needed to be simmered over low heat for a rather long time to be delicious. And it's hard to clean up afterward because the pan gets burnt and the tomatoes splatter all over the stove!
The Hot Cook is a one-stop solution to these problems. In just 30 minutes, you can get the flavor of a slow-cooked simmered sauce.
The recipe's flavor is delicious enough, but I had to add flour instead of boiling it down to get the consistency of meat sauce, so I had to grade it a little harshly and gave the score of minus two stars.
WHAT IS HOT COOK?
Hot Cook is Japanese popular cookware, waterless automatic cooking pot series, made by SHARP. Just put the ingredients in the pot and press the switch to automatically prepare a variety of dishes.
HOT COOK 1.6L size (for 2-4 people), Latest model with a fluorine-coated inner pot  

リンク
This article introduces recipes using the Hot Cook, which has become an indispensable part of our home.
Hot Cook Recipe [Meat Sauce] One Point Advice
If you do not want to add flour, open the lid after heating and reheating until the water content evaporates to your preference.
Onions with high water content will result in a meat sauce with more water.
Although it is not in the recipe, we always add a little Worcestershire sauce to make it richer.
Hot Cook Recipe [Meat Sauce] Ingredients: For pasta with meat sauce, 4 servings
Onion, chopped: 1/2 onion (100g)
Carrot, finely chopped: 1/2 carrot (100g) You can also make without the carrot.
Garlic, minced: 1 clove
Ground meat: 150g-250g You can use less meat for a tastier dish.
Canned tomato. fruit coarsely chopped: 1 can (400g)
Hot Cook Recipe [Meat Sauce] Seasonings
Flour: just under 1.5 tablespoons
Ketchup: 3 tablespoons
Worcestershire sauce: 1 tablespoon
Consommé (granulated): 2 teaspoons
Salt and pepper: a pinch each
Bay leaf: 1 leaf
Hot Cook Recipe [Meat Sauce] How to make
STEP 1:Prepare ingredients
Chop all the onions, carrots, and garlic.
We use a food processor to make minced meat from thin slices of beef and pork, so we chop the vegetables in the food processor as well.
In this case, I used 70 grams of beef ribs and 100 grams of pork thighs to make the minced meat.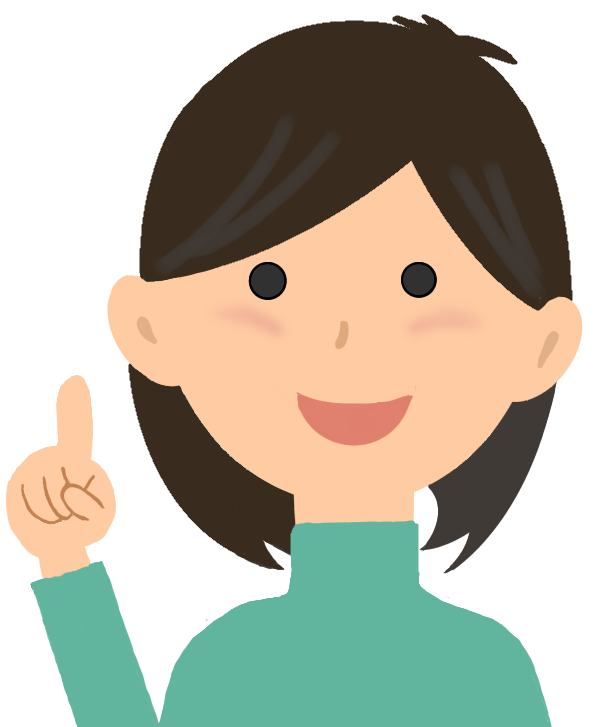 Mickey
If you don't have a food processor, please try using one because it is very convenient for chopping and mincing meat and vegetable.

Panasonic Food Processor, 4 roles in one device 
リンク
STEP 2:Put all ingredients in the Hot Cook inner pot
Put all the ingredients in the inner pot.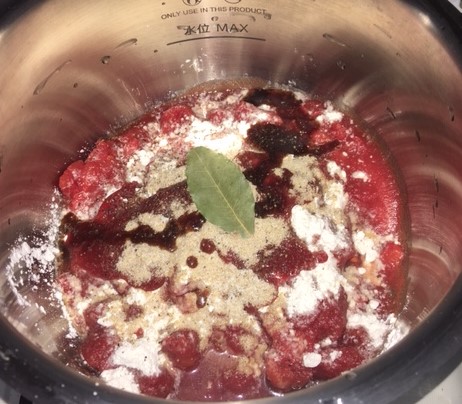 STEP 3:Press the cook menu button
Select a menu => Search by menu number => No.079 (Meat sauce) => Start cooking => Start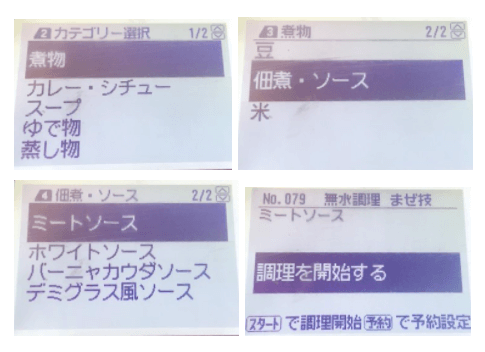 STEP 4:Complete!
When you hear the finishing chime, open the lid, mix it up, and place it in a bowl to serve.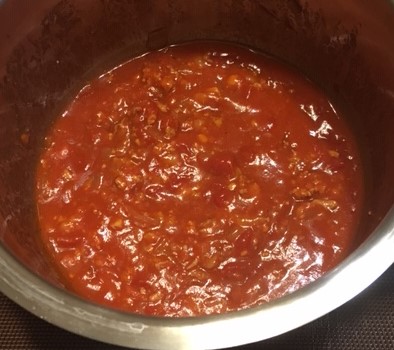 Use a storage container and store it in the refrigerator.
If you are having pasta with meat sauce, boil the pasta separately and serve it with the finished meat sauce.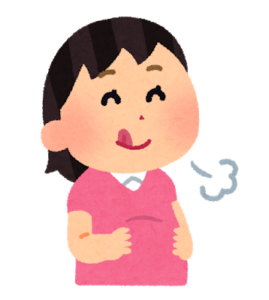 We also make pizza with homemade dough and homemade meat sauce on top. When we make meat sauce for pizza, we use less meat for the meat sauce because we add other toppings for the pizza.
Meat sauce made in Hot Cook is easy to make and very convenient!
HOTCOOK 1.6L size (for 2-4 people), Latest model with a fluorine-coated inner pot  

リンク
HOTCOOK 2.4L size (for 2-6 people), Latest model with a fluorine-coated inner pot  

リンク