August 3 (Sat) – 7 (Fri)

Items Ordered via Amazon Fresh are Delivered to Us with Due Care!

Shopping is especially hard when hot weather continues. When you go to a store, you may just buy many things on impulse and it's really hard to walk around in the hot weather while carrying your shopping bag.

Even if you go to a store by a car, you consume your energy by going to the store and then bringing your purchased food to your car. Also, gasoline is expensive in Japan. . .

At our home, we consider menu for next week every Thursday night. And we use the Amazon Fresh internet service to order food items and ingredients. We can select delivery date and time that are convenient for us.

Important point is to consider a menu first. There are various price ranges depending on the production area and quantity of the food, so we carefully place them into the cart displayed on the PC screen so as not to end up with any waste.


| | |
| --- | --- |
| Date | Menu |
| Aug 3 (Sat) | Aqua Pazza |
| Aug 4 (Sun) | Pasta with Tomato Ketchup |
| Aug 5 (Mon) | Hot & Sour soup with Noodle |
| Aug 6 (Tue) | Mabo-eggplant |
| Aug 7 (Wed) | Niku-Jaga (Potato with beef) |
| Aug 8 (The) | Curry with Chicken & Vegetables |
| Aug 9 (Fri) | Chicken & Broccoli with steam Rice |
Ordered items are delivered to us with care and also separated by;
Ingredients that need to be refrigerated
Ingredients that need to be frozen
Ingredients that are stored at room temperature
Delivery person of Amazon Fresh is well-trained and explains about each bag such as "Food in this bag needs to be refrigerated" or "Food in this bag needs to be frozen."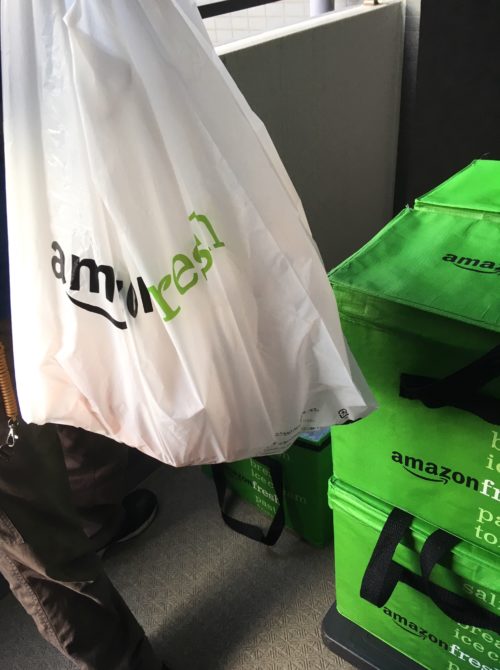 Each bag were packed and delivered carefully.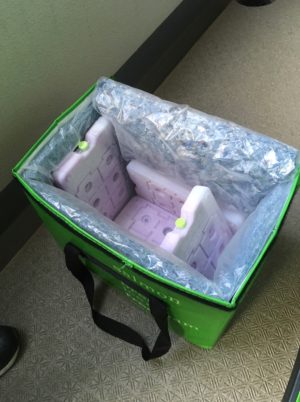 Control for frozen and refrigerated items is also excellent!