Taste Scoring
★★★★★ Cooking time: 17 min. Preparation 5 min. + Hot Cook 12 min.

Ken
Delicious Pork Bowl can be easily made if you just have pork back ribs and onion at home.   So I always try to keep them in our refrigerator so that I can make Pork Bowl whenever I want to.
Ingredients for the Pork Bowl is the same as that of the Beef Bowl and uses only meat and onions. Preparation is very easy. The cooking time requires for the hot cook is only 12 minutes, which is very quick and convenient.
The point of seasoning is to add ginger.  For 2 people, I used 1 teaspoon of ginger this time.
Right before eating, I put red ginger on it.  If you don't have red ginger, I think it's better to put 2 teaspoons of normal ginger in the pot beforehand instead of 1 teaspoon.
As it 's a little bit sweet overall, the ginger refreshes the taste. Also, be sure not to forget the garlic for better taste!
WHAT IS HOT COOK?
Hot Cook is Japanese popular cookware, waterless automatic cooking pot series, made by SHARP. Just put the ingredients in the pot and press the switch to automatically prepare a variety of dishes.
HOT COOK 1.6L size (for 2-4 people), Latest model with a fluorine-coated inner pot  

リンク

This article introduces recipes using the Hot Cook, which has become an indispensable part of our home.
【Hot Cook Pork Bowl】One Point Advice
To make it soft and delicious, use pork back ribs.
Pork bowl is made by setting the cooking time of your choice using the "Cook Manually" function of Hot Cook.
For 2 people, set to "12 minutes" for the cooking time.
For 2 people, set to "15 minutes" for the cooking time.
【Hot Cook Pork Bowl】Ingredients (for 2 People)
Pork back ribs: 130g
Onion slice: small 1/2 piece
【Hot Cook Pork Bowl】Seasonings (for 2 People)
Soy source: 3 tablespoons
Japanese sake: 3 tablespoons  (white wine may be used)
Sweet cooking rice wine: 1 tablespoon (sweet white wine may be used)
Sugar: 1 tablespoon
Grated garlic: 1 teaspoon
Grated ginger: 1 teaspoon
【Hot Cook Pork Bowl】How to Make It.
STEP 1:Prepare Ingredients
Slice 1/2 pieces of onion.
Cut pork into bite-sized pieces.
Prepare all seasonings.
STEP 2:Put all Ingredients in the Hot Cook Inner Pot
Put the onions in a pan and loosen the pork on top.
Add seasonings on top. No water necessary.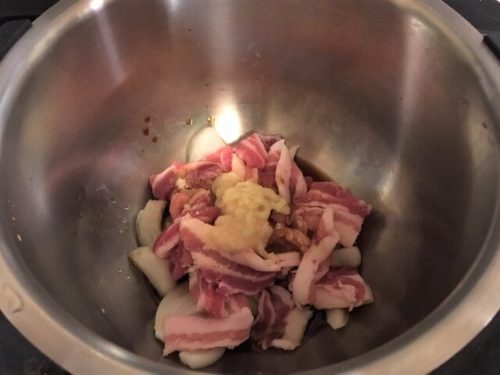 STEP 3:Hot Cook Menu ♪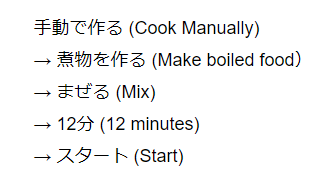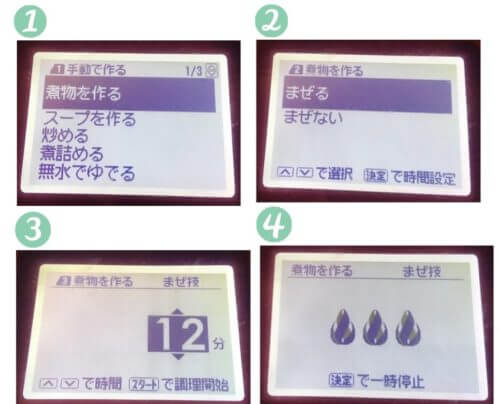 STEP 4:Complete!!
Open the lid and put it on the rice bowl.
Add red ginger as you like, it makes even more delicious!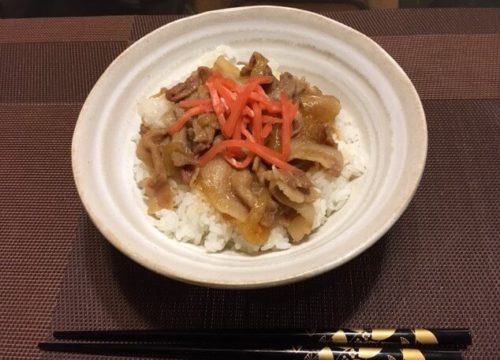 The sauce is also very delicious, so we poured all the sauce on rice.
Can not stop eating…!
HOTCOOK 1.6L size (for 2-4 people), Latest model with a fluorine-coated inner pot  

リンク
HOTCOOK 2.4L size (for 2-6 people), Latest model with a fluorine-coated inner pot  

リンク